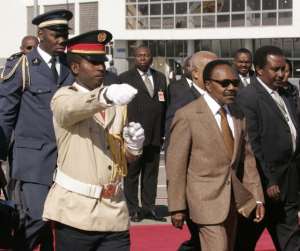 President of Gabon Omar Bongo
by Scott A Morgan
When the Spanish Foreign Minister announced earlier this week that the President of Gabon Omar Bongo was currently seeking Medical Attention in Barcelona it had to set off several Alarm Bells.
The Timing of this Announcement is very peculular. According to Official Statements from the Gabonese Government President Bongo is Mourning the recent Passing of His Wife. In what has to be another piece of interesting timing President Bongo is one of Three African Leaders currently Facing Trial in France for Corruption Charges. In another coincidence the President of the Republic of the Congo who happened to be the Father of President Bongo's Wife is also Facing Charges in the Same Court.
Although Nominally a Republic Gabon appears to be on the surface a Family Owned and Operated Business. A Document Published late last year by Members of the Gabonese Opposition in France was critical of two of the President's Children. A Daughter Pascaline is the current Chief of Staff. In the view of some vocal members of the Opposition she makes the Decisions for the Government on a Daily Basis. His son Ali is Defense Minister which means He controls the Security Services.
So now there is the possiblity of a Family Power Struggle in a Oil Producing Country in West Africa. Roughly one-third of the Oil Imported by the United States is produced in this region. The United States has also increased cooperation when it comes to Security Issues. Libreville the Capital of Gabon was the Last Port of Call of the APS (Africa Partnership Station). The Vessel assigned for the task this year was USS Nashville.
What will happen within the Country Now? President Bongo has a long history of buying off any Member of the Opposition that had loudly expressed any concerns about how the Country was being Governed. The Only Means of Opposition that are currently available to the People of Gabon are to either initiate General Strikes or Not to Vote in Presidential Elections. A series of Strikes by Teachers and in the Medical Field can be seen as an effort to Organize a voice.
Will a change of Government in Gabon have an Impact in the US? Instability in Gabon will have some influence on the Oil Market so there will be some pain felt at the Gas Pump. As for Strategic Interests that may yet to be seen. The Contact between the US and Gabonese Militaries probably will not change on iota. With the Militancy in the Niger Delta and the Underreported Acts of Piracy in the Gulf of Guinea also being Points of Contention it is not feasable for the US to Monitor this Unfolding Situation.
The Author Publishes Confused Eagle on the Internet and Comments on US Policy Towards Africa. Confused Eagle is at morganrights.tripod.com