Zion Church Congratulates Asantehene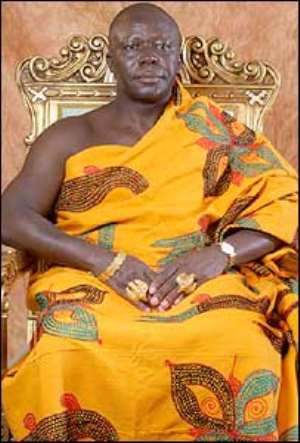 Winneba, (C/R), May 10, GNA-The Presiding Elder in-charge of the Tafo District branch of the African Methodist Episcopal Zion Church, Reverend Bon Mills, has commended the Asantehene Otumfuo Osei Tutu II,
for his exemplary leadership qualities.
Rev. Bon Mills was congratulating Otumfuo during interaction with the press at Winneba during the just-ended appraisal meeting of AME Zion Church Ministers drawn from the North, Mid-Ghana, East-Ghana and West-Ghana Conferences of the Church at Winneba.
He said that the excellent leadership record set by Otumfuo Osei Tutu has really carved a new image for the institution of chieftaincy in Ghana and hoped that all divisional and sub-chiefs operating within the jurisdiction of the Ashanti Kingdom will emulate him for the betterment of future generations.
Rev. Bon Mills also expressed the belief that Traditional Rulers, Divisional and Sub-Chiefs in other Traditional areas in the country would also learn from Otumfuo Osei Tutu's shinning methods of Traditional Administration for the good of their people.
To a question, Rev. Bon Mills said that Ministers of Religion and Evangelists in the country as well as all level-headed national administrators who were poised of bringing the people together for the attainment of the objectives of better Ghana would also learn something from what Otumfuo Osei Tutu has so far exhibited.
On self-help projects, Rev. Bon Mills said that the Tafo District branch of the Church has over 50 primary and junior high schools and a hospital operating in the area and called for Government assistance through the GETFund to supplement the efforts of the Church.
He said that the Church had initiated special character reform programmes under which the youth in the Church were being offered regular moral education to equip them with good moral qualities befitting Christians.
He reminded Christians of the great responsibilities associated their religion and charged them to always strive to do the right things to prepare themselves for the "judgement day."
Rev. Bon Mills asked both the old and young members of the Church to co-operate with the leaders of the Church to ensure total success of the programme.
He prayed for unity and understanding among Ghanaians.
GNA