New poultry feed enhancer recommended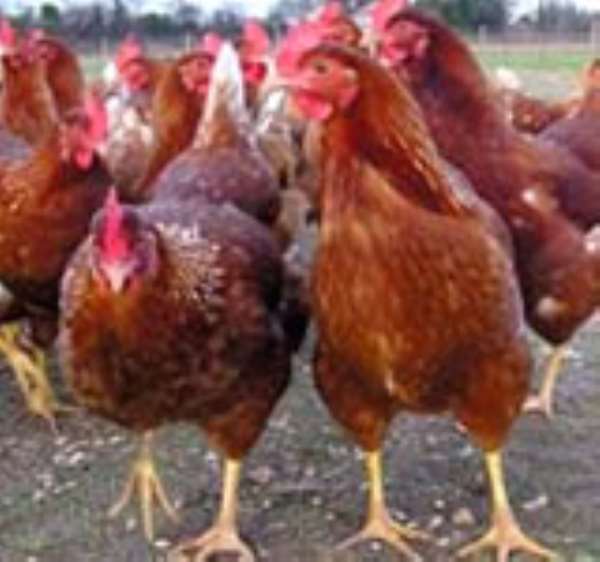 A team of researchers from the Animal Science Department of the Kwame Nkrumah University of Science and Technology (KNUST), Kumasi, has recommended a new poultry feed enhancer to poultry farmers to improve general poultry performance.
They undertook studies using a livestock performance enhancer known as 3rd Generation Ruman-Enhancer (RE3); an additive in poultry feeding to all classes of poultry birds for improved performance at lower cost.
It is a liquid chemical, manufactured by Basic Environmental Systems and Technology Incorporated (BEST) of Canada and approved by the Food and Drugs Board (FDB) of Ghana.
The researchers made the recommendations when they talked about the product and its usefulness at a one-day workshop organised by the Ashanti Regional Directorate, in collaboration with the Ministry of Food and Agriculture (MOFA) for poultry farmers.
Professor S. A. Osei of KNUST said poultry feed had become the single most important recurrent cost of producing broilers and eggs.
He said it was found during the research that all ingredients used in the preparation of RE3 - were from natural sources and remained in their natural state.
He Said no toxic chemicals were found to have been used in the preparation of RE3, adding it contained yeast, which produced acid to fight any plague that might attack the birds.
Prof. Osei stated that whenever the RE3 was added in the feed for the broilers and layers, it gave the advantage in terms of laying eggs, bodyweight and liveability, which in the end saved money.

Throwing light on the chemical, Prof. O. B. Okai said the enhancer was solely for broilers and layers, but not ducks or ostriches, adding that local research proved that replacing antibiotics with RE3 would save the farmer approximately US$485 per 1,000 layers.
A Research Scientist to the Canadian government at BEST; Dr John Baah, said mixing the enhancer, according to instructions for broilers or layers, yielded better results and reduced cost.