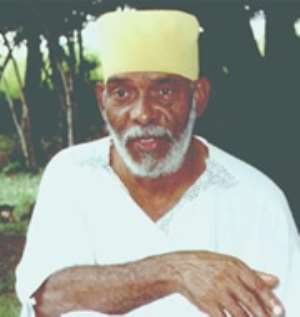 From 1959 until the late 1970s, he performed as Guy Warren of Ghana. He then became Kofi Ghanaba, although his name at birth had been Kpakpo Akwei. To this, his teacher father had added Warren Gamaliel Harding in honour of the then US president. At the 1960 Ghana jazz festival, he premiered his Voices of Africa drum suite.

After a spiritual quest to Benares, India, in the early 1960s, he returned to London and played with the Jamaican saxophonist Joe Harriott before the producer Denis Preston recorded his solo drum suite, based on the drum music of Congo pygmies. After another London album with Rendell, he worked with the quintet co-led by Rendell and the trumpeter Ian Carr.

In 1970, with his friend the former Cream drummer Ginger Baker, he performed his Accra schoolroom concert - the antithesis of stardom. Ghanaba's affection for western concert music re-emerged in 1986. He appeared at the Royal Albert Hall playing his interpretation of the Hallelujah Chorus.

Ghanaba became a Buddhist and retired to Midie, a village near Accra. In 2002, however, he gave a memorable performance in Yaa Asantewaa, Margaret Busby's dramatic tribute to the Ashanti warrior queen. His last public performance was last September at the Goethe Institute in Accra.

Val Wilmer Graeme Ewens writes: When Ghanaba met Parker in 1955, he invited the drummer to play talking drum at an all-star New York concert. Alas, that fusion never occurred. Parker died within a month, but in the last picture ever taken of Parker, at the Beehive Club, he wore Ghanaian kente cloth while Ghanaba sported the great man's overcoat.

Africa Speaks, America Answers was a marker of Ghanaba's talents. It showed his mastery of everything from drumkit to talking "squeeze" drum, and the large, upright fontomfrom drums.
"Ghanaba was so far ahead of what we were all doing," said Max Roach much later, "that none of us understood what he was saying - that in order for African-American music to be stronger, it must cross-fertilise with its African origins. We ignored him. The sound of Ghanaba is now being imitated all over the US."
Kofi Ghanaba (Guy Warren, Kpakpo Kofi Warren Gamaliel Harding Akwei), drummer and journalist, born 4 May 1923; died 22 December 2008.

Credit: Okyerema Asante