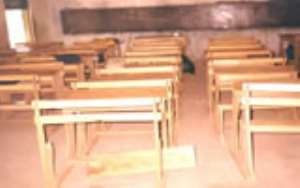 The management of the World Vision International (WVI), a Non-Governmental Organization (NGO) at the weekend presented 150 pieces of dual desks valued at about GHC 4,500.00 to the Kintampo South District Directorate of the Ghana Education Service (GES).
The donation, aimed at solving the problem of inadequate furniture facing some schools in the district.
Mr. Joshua Wettey, Director of the Jema Area development programme who presented the items at Jema, Headquarters of the district said the offer was in fulfillment of the WVI's objective as partners in the nation's development.
He said the organization would continue to assist to promote education in the newly-created district since education served as the bedrock of every community's development.
Mr. Enoch Osei-Safo, District Director of Education who received the items expressed appreciation to the donors and called on other NGO's and philanthropists to assist in promoting teaching and learning".
Mr.Osei-Safo cited a number educational programmes in the district which were sponsored by WVI, saying but for their efforts, the directorate could not have been able to the finance those programmes.
He disclosed that WVI had recently donated an amount of GHC 1,600 to organise mock examination in the district towards the forthcoming Basic Education Certificate Examination (BECE).
The District Director of Education added that, WVI assisted the Directorate in organizing two separate capacity building workshops for the heads of Basic Schools in the area at the cost of GHC 3,425.
He therefore urged teachers in the district to redouble their efforts to improve upon the standard of education in the area to augment the good works of the WVI.
GNA