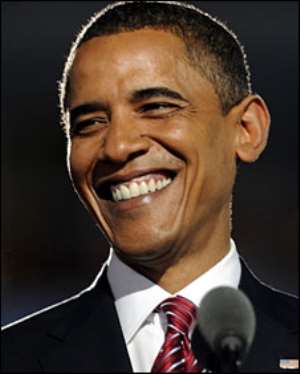 US President Barack Obama has appeared on a popular TV chat show to promote moves to resolve the economic crisis.
He told NBC's Tonight Show he was taking full responsibility "to fix" the economy, in the first-ever appearance on the show by a serving US president.
Mr Obama said he was "stunned" by the huge bonuses that bailed-out insurance firm AIG was paying its employees.
The bonuses - totalling $165m (£113m) in a company now 80% government-owned - have caused outrage in the US.
On Thursday, US lawmakers in the House of Representatives backed a bill to levy a 90% tax on big bonuses from firms bailed out by taxpayers.
Mr Obama told programme host Jay Leno in Burbank, California: "The immediate bonuses that went to AIG are a problem but the larger problem is we've got to get back to an attitude where people know enough is enough and people have a sense of responsibility.
"And if we can get back to those values that built America, then I think we're going to be OK."
Promoting his plans for broad reform of financial regulation, Mr Obama said they were needed because "most of the stuff that got us into trouble was perfectly legal".
The president also mounted a strong defence of his embattled Treasury Secretary Tim Geithner.
"This guy has not just a banking crisis. He's got the worst recession since the Great Depression," he said, adding: "I think Geithner is doing an outstanding job."
Mr Obama also exchanged jokes with Leno during the 35-minute interview.
Referring to his critics, he said: "I do think in Washington it's a little bit like American Idol, except everybody is Simon Cowell."
Questions veered away from politics and into the personal life of the president and his family in the White House.
He said it was "pretty cool" to fly on Air Force One, and that his daughters Sasha and Malia would get their promised pet dog "shortly".
For fans of the president it was an opportunity to see him looking calm and humorous, the BBC's Justin Webb in Washington says.
Mr Obama's staff also felt that they needed to use any opportunity they have to allow him to explain himself to the widest possible audience.
But his opponents say that the appearance demeaned his office and was a distraction from serious issues, our correspondent says.