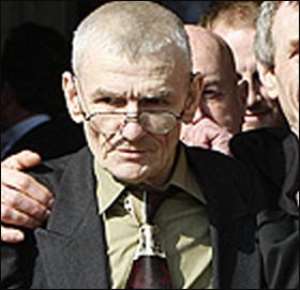 Sean Hodgson A MAN who has spent the last 27 years behind bars after confessing to a murder he didn't commit was "ecstatic" today as his conviction was quashed at the Court of Appeal.
Sean Hodgson, now 57, made several confessions to the 1979 murder of 22-year-old gas board clerk and part-time barmaid Teresa De Simone, who was found strangled in Southampton.
But new DNA tests proved he could not be the killer.
DNA
And today he was present in the dock to hear the Lord Chief Justice, Lord Judge and two other top judges in London, rule that his 1982 conviction was "unsafe".
Lord Judge said that 27 years after his conviction it would now "be quashed".
He added: "It is unsafe."
At the time of his trial, DNA tests were not available, with the world's first use of such evidence in court not taking place until 1986 in Leicester.
But in November last year, his lawyers demanded a review of DNA samples.
In the light of new evidence, the Criminal Cases Review Commission (CCRC) decided to refer Mr Hodgson's case to the Court of Appeal because it considered that there was a "real possibility that the court would consider the conviction unsafe and quash it".
The court heard today that DNA evidence found at the scene did not match a sample given by Mr Hodgson.
Asked how he felt today, he said simply: "Ecstatic."
His brother Peter added: "On behalf of my brother, I would like to thank the solicitor a million million times.
"What I would like to say - I've had a dream for 27 years. I know it's a hell of a long time. But it's finally come true."
A statement issued by Mr Hodgson's solicitor, Julian Young, said: "Sadly, the mother of the victim now has to face the possibility and distress of the circumstances of the case being reopened.
"At a time when the criminal justice system is under scrutiny, it is gratifying to see all parties co-operating to rectify a serious miscarriage of justice."
In his ruling, Lord Judge said that unlike many other miscarriages of justice, the conviction was not being quashed because of police misconduct.
He said: "The conviction will be quashed for the simple reason that advances in the science of DNA, long after the end of the trial, have proved a fact which, if it had been known at the time would, notwithstanding the remaining evidence in the case, have resulted in quite a different investigation and a completely different trial."
Mr Hodgson, also known as Robert Graham Hodgson and originally from County Durham, made various confessions to police before pleading not guilty at his trial at Winchester Crown Court.
Miss De Simone's partially clothed body was found in the back seat of her Ford Escort in the car park beneath the Tom Tackle pub where she worked part-time.