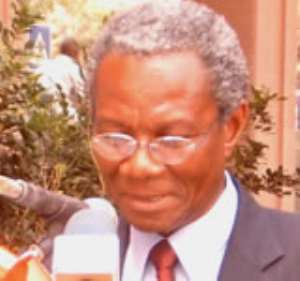 Renowned economist Kwame Pianim has urged the Mills government to spell out priorities areas of development so investors can play along.
Mr Pianim who was speaking at the launch of an investment fund in Accra on Tuesday said it is important that the country conducts itself in a way that will boost investor confidence in the economy.
Finance Minister Kwabena Duffuor on March 5, 2009 told Parliament that streamlining the investment climate will be among government's priorities for the year.
He mentioned that total investment outlays for 2008 amounted to some GH¢1,002.9 million (equivalent to 5.8 per cent of GDP) and about 34.5 per cent higher than the budget estimate of GH¢745.8 million.
Of this amount, expenditures directly tied to the proceeds from the sovereign bond issued on the international capital markets amounted to GH¢581.9 million, (equivalent to 3.4 per cent of GDP).
Although the budget statement misses out on the quantum of investment expected this year, government expects to record a major feat in foreign direct investments.
Mr Mpiani however stressed that on the backs of the financial crisis, investors will be looking for the best areas to grow their money, which demands a good posture by the country to attract a favourable share of global investment.
Mr Mpiani also said radio discussions that centre on trivialities and depict chaos should be discouraged.
The media has in recent times come under scathing criticisms for encouraging discussions that are punctuated with unsavoury comments.
Mr Mpiani called for a more responsible media which places national development at the heart of its running philosophy.
Story by Fiifi Koomson