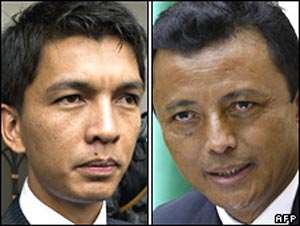 Andry Rajoelina and Marc Ravalomanana Explosions and gunfire have been heard in the centre of Madagascar's capital after the army stormed a residence of President Marc Ravalomanana.
Witnesses saw soldiers drive at least one armoured vehicle through the gates of the central Antananarivo residence.
Mr Ravalomanana was in another palace, 15km (nine miles) from the city centre.
It came after opposition leader Andry Rajoelina called for the arrest of the president and won public backing from the armed forces' self-declared head.
The fierce power struggle on the Indian Ocean island has triggered a military mutiny, looting and violent protests that have left at least 100 people dead since January.
'Attempted coup' condemned
The BBC's Jonah Fisher in Antananarivo says round after round could be seen being fired into the night sky as soldiers celebrated the easy capture of the residence.
Col Andre Ndriarijaona, who last week said he had replaced the military chief of staff, also reportedly said they had seized the central bank.
Earlier on Monday, the embattled president again proposed a referendum to resolve the seven-week political crisis.
Mr Ravalomanana, who was re-elected for a second term in office in 2006, has previously said he wants to remain in office until his mandate expires in 2011.
But the opposition leader rejected Mr Ravalomanana's plebiscite plan and called for the security forces to arrest him.
Mr Rajoelina said: "The people are thirsty for change and that's why we won't have a referendum and will put our transitional government in place."
Our correspondent says Mr Rajoelina has wrapped himself in the cloak of democracy, but he wants to replace an elected head of state without going to a ballot.
The African Union condemned this as an "attempted coup d'etat" and called on Madagascar to respect its constitution.
The opposition leader, a 34-year-old former disc jockey, says the president is a tyrant who misspends public money.
But Mr Ravalomanana's supporters say his rival is a young troublemaker who has not offered any policy alternatives.
The army has traditionally remained neutral during periods of political volatility since independence from France in 1960.
But on Monday, Col Andre Ndriarijaona, who last week said he had replaced the military chief of staff, said the army was virtually all behind the opposition.
BBC