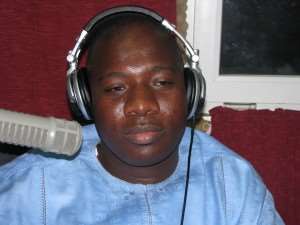 The controversy surrounding former president J. A. Kufuor's office remains unabated as Mahama Ayariga contradicts P. V. Obeng.
The Presidential Spokesperson said President J. E. A. Mills did not permit Mr. Kufuor to use the facility as claimed by Mr. Obeng.
Mr. P. V. Obeng, who is the head of government's transition team, had told Asempa FM that Mr. Kufuor had the blessing of the president to use the facility as his office.
He expressed surprise at the raging debate over the propriety of ex-President Kufuor's acquisition of a state property for his private office.
Mr. Obeng said he personally conveyed ex-President Kufuor's request orally to President Mills, who he said readily agreed to the request provided his predecessor was comfortable with it.
But in statement issued on Monday, Mr. Ayariga contends the explanation by P. V. Obeng was not entirely true.
According to him, "Mr. Paul Victor Obeng did have some conversation with members of the out-gone New Patriotic Party (NPP) government's transition team during which there was an informal intimation that the ex-President would like to use the said facility as his office accommodation."
But "the Government of Ghana has not formally communicated to the office of Ex-President Kufuor any consent to the continued use of the facility as his office accommodation," the statement said.
Mr. Ayariga said although the president accepted in principle, the need to make arrangements for Mr. Kufuor to have an office accommodation, he did not give his blessing for the use of the facility as suggested by Mr. Obeng.
In any case, "ex-President Kufuor was already in occupation of the facility even before the informal and subsequent formal request to use the facility."
The presidential spokesperson said while the former president was already using the facility a formal letter requesting the use of the place was received on March 11, and was dated February 5.
The former Member of Parliament for Bawku Central chastised the Daily Guide Newspaper for publishing a misleading and malicious story on the saga.
He told Joy FM's Super Morning Show host, Kojo Oppong-Nkrumah, the paper claimed he (Ayariga) and others had orchestrated the controversy in order to embarrass the former president.
He opined he had no need to seek to denigrate the former president.
Story by Malik Abass Daabu