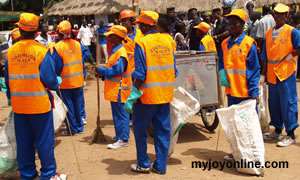 Government in collaboration with ZoomLion, a waste management organization, on Saturday launched a fumigation exercise against flies and mosquitoes at Akplamafu in the Hohoe Municipality of the Volta Region.
The exercise, which would last for six months, would also ensure the clearing of all refuse dumps in the community that has recently been invaded by flies and mosquitoes.
The launch follows a report by the Ghanaian Times, a daily state-owned newspaper, on Tuesday, March 11 2009 that flies had invaded Akplamafu causing, discomfort to the residents.
Speaking at the event, Dr Mustapha Ahmed, Member of Parliament (MP), for Ayawaso East and Chairman of Parliamentary Select Committee on Health, said the exercise was part of government's commitment to ensuring good sanitation practices, including ridding the country of filth within the first 100 days of its rule.
He said government had set aside budge for residual spraying of insects, and bio-larvicial treatment of insects to protect communities from flies and mosquitoes, which may cause diseases like malaria, typhoid, cholera and other communicable diseases.
Dr Ahmed appealed to the people of Akplamafu to support government, in solving the sanitation problem and to avert any recurrence.
He said: "Flies can cause discomfort, contaminate our food and cause epidemic and we should discourage it at this when we are looking for money for development".
Mr. Oscar Provencal, Communications Director of ZoomLion, said the exercise was part of the company's social responsibility and assured government of the company's readiness in helping to solve sanitation problems in the country.
Togbe Akpaka, Chief of Akplamafu, expressed concern of the health implication of the bites, of the flies and commended government for the quick response to the call of the people for assistance.