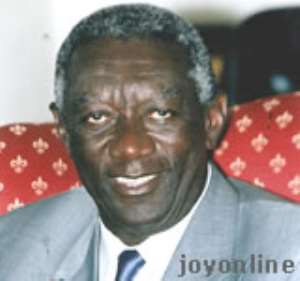 Former President Kufuor is working from an office acquired for himself.
This follows stalling of the implementation of the recommendations of the Chinery-Hesse report which required the state to provide him with an office.
President Mills froze the implementation of the recommendations with the intention to review the package after there was a huge public outcry about the quantum.
In the interim therefore, the former president, his spokesperson, Frank Agyekum confirms to Joy News, has acquired a place for himself.
Even though he admits the facility being used was a state bungalow, he will not tell how much the former president paid for it.
He says it is "normal office with a secretary or two" to enable Mr. Kufuor work.
Mr. Agyekum rejected suggestions that the building was extravagantly furnished.
Asked whether the former president procured the place whilst in office, Mr. Agyekum said there was nothing wrong with preparing retirement.
Story by Malik Abass Daabu