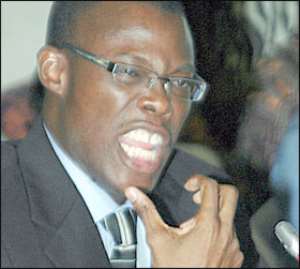 Fiifi Fiavi Frankline Kwetey The Parliamentary approval of Fiifi Kwetey, one of President John Atta Mills' Deputy Ministers of Finance-designate is set to take a turbulent path as the Minority in Parliament rolls up its sleeves to scuttle the endorsement of the National Democratic Congress (NDC) Propaganda Secretary.
Minority Members of Parliament (MPs) in the Appointments Committee have described Fiifi Kwetey as a chronic maverick, a liar and arrogant man who has no competence to help manage the economy of this country in the midst of the current global financial downturn.
Fiifi Kwetey was on Monday grilled by the Appointments Committee for over four hours, the longest period for any nominee of President Mills characterized by tempestuous arguments.
The Minority New Patriotic Party (NPP) has also described the president's nominee for Deputy Minister of finance as a 'professional conman' who does not deserve to be a minister of state, according to a story posted on myjoyonline.
Samuel Ata Akyea, MP for Abuakwa South said allegations in the run-up to last year's elections, particularly those made by Mr. Kwetey against the 2008 presidential candidate of the NPP, Nana Addo Dankwa Akufo-Addo, were not true.
The Minority argued that in the run-up to the 2008 elections, the nominee used his position as propaganda secretary of the then opposition NDC, under the platform of a Committee to Set the Record Straight, to make several damning allegations against the then NPP government.
Hon. Atta Akyea described as palpably false allegations that the Kyebi office of the NDC was burnt to ashes and one Abu Mohammed, an NDC functionary, was crippled as a result of a resounding beating by "thugs" alleged to have been hired by Nana Akufo-Addo, and demanded evidence to the contrary.
"I think the committee holds it to itself and its credibility to go into this matter; because if it never happened, then we are endorsing a professional conman; that is what it would be," Hon. Atta Akyea demanded.
Nevertheless, the deputy minister-designate said the allegations were confirmed by the constituency officials of the NDC, a reason why they put it out in the public domain, adding that he was ready to retract and apologize if it were proven the allegations were not true.
"I don't think the Majority would endorse him for what has happened, yeah. It has become very clear that this is a professional who has no sense of truth," Hon. Atta Akyea told Joy News.
The MP for Abuakwa South condemned the 'unrepentant' attitude of Fiifi Kwetey about the libelous statements he made against people.
He said people in leadership positions should exhibit traits of character, competence and care. "Very obviously….if you are not humble and you have no character, what work would you do? You can never deliver, in my view," he stated.
Fiifi was the managing editor of the Crystal Clear Lens newspaper.
The deputy minister-designate said he was not surprised by attempts to question his competence in the area of Finance and Economics, explaining those critics were not aware of his background.
He said he was not perturbed by the Minority threat and promised to stand firmly by his own "conviction" and was ready "to die for Ghana".
"I am not an arrogant person. I know how to stand on my ground and it is important to be a person of conviction… our national anthem tells us that we should be bold to defend the course of what we know to be the truth."
He claimed he would apologize if the allegations he raised against the NPP administration are proven otherwise, emphasizing that he has no interest in peddling lies.
"Things that I knew I had no basis to say, I admitted that clearly I do not have any basis to say them; that is not the position of somebody who is being arrogant," he retorted.