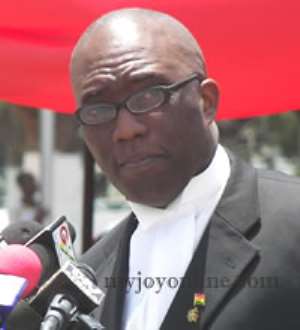 Former Attorney General Joe Ghartey has challenged the Mills administration to provide details of the exact number of jobs it hopes to create at the end of the year.
He said it is not enough for government to parrot job creation as a priority when it is impossible to evaluate government's commitment to fulfilling its mandate.
The NDC prior to the December elections made job creation as one of the major policy initiatives it intended to pursue with vigour if it won power.
On assuming the reigns of power, the president John Evans Atta Mills reiterated his pledge to provide jobs for the people and subsequently made proposals in its first budget statement of the year.
But Mr. Joe Ghartey insists government cannot continue to pay lip service to solving the problem of youth unemployment.
At the floor of parliament on Tuesday to debate the budget statement Mr. Ghartey argued the public must be made aware of the number of jobs there is to be created at the end of the year.
This he said would facilitate the evaluation of government performance and to determine which sectors could provide adequate job opportunities to the teeming youth.
Story by Nathan Gadugah