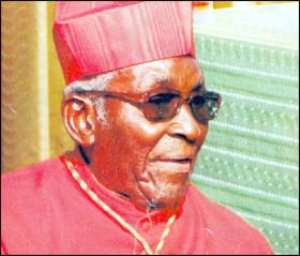 Cardinal Peter Porokuu Dery The 1st anniversary memorial mass in remembrance of Cardinal Peter Porokuu Dery of the Tamale Catholic Arch Diocese has been held in Tamale.
Rev. Fr. Clement Gyil, who officiated the mass held at the Cardinal's former residence, called on Christians to remain steadfast and strengthen their relationship with God.  
He based his sermon on the book of Ezekiel 18:21-28, and advised Christians to relinquish their association with the devil and his wicked ways.
The Rev. Father urged them never to relent in their efforts at doing good, and expressed worry at the spate at which many Christians abandon their relationship with God, reminding them that the Prophet Ezekiel advised against this.
He cited instances in the life of the late Cardinal who was a fetish priest in his early days but later converted to Christianity and never turned his back on God till he died.  
He appealed to Christians to emulate Cardinal Dery's example and ensure that their relationship with God was strengthened irrespective of the trials they might face in life.
Fr. Clement empahsised the need for Christians to reconcile themselves to God before making any attempt to offer Him sacrifices.
This way, he continued, their requests to the Creator would be accepted and they will be happy here on earth and in the world to come.
Cardinal Dery who died on March 6, 2008 was born on 18th May, 1918. He was one of the first 32 Catholics to be baptized in the Upper West Region.
He was ordained a priest in 1951 in Nandom, his hometown in the Upper West region, after successfully completing his course of study at the St Victor's Major Seminary in Wiaga.
The late Cardinal was posted to the Nandom Parish as a Curate and later as the local manager of schools. He was on May 8 1960 ordained a Bishop and he supervised the newly created Wa Diocese of the church.
In 1974, he was transferred to Tamale where he remained till his retirement on June 30, 1994.
After his retirement, he settled permanently in Tamale and supported the current Arch Bishop Gregory Kpembaya.
Later in 2006, he was elevated and canonized the Second Cardinal in Ghana by the Vatican in Rome after Cardinal Peter Appiah Turkson. This was in recognition of his meritorious service in the Lord's vineyard.
From Stephen Zoure, Tamale