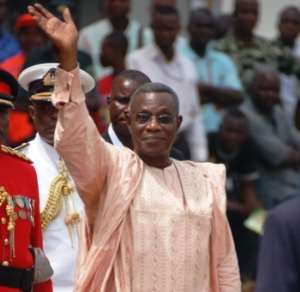 H. E. President John Evans Atta waving the crowd The President, Prof. John Evans Atta Mills has reiterated that the Ghanaian way of doing things should be that under the rule of law, and with the benchmark of due process any violations of the laws of Ghana will be addressed in a manner that is fair, balanced and right in the sight of God.
He stressed that an Atta Mills government will not engage in political vendetta and will not condone actions that will pitch one citizen against the other as a way of settling political scores.
President Mills said this at the 52nd Independence Anniversary Parade by security services and school children, which is the climax of the celebration under the theme: 'Unity and Peace, Pillars for National Development'.
The president indicated that his administration does not intend to parade scapegoats or seek refuge in excuses but will rather focus on the things that matters, which will enable the economy, recover some degree of stability.
He also assured Ghanaians that no amount of organised detraction or political barnstorming will break his resolve to chart a new course in the politics of the nation and urged Ghanaians that 'those who know they are in the wrong must recognise that a contrite heart is more valued and a better example than arrogance bluster and confrontations'.
He therefore cautioned political leaders to recognise that what they say or fail to say to their followers makes a lot of difference in how followers conduct themselves in national discourse.
He assured governments committed to strengthen Ghana's position as a magnet for investment in productive ventures to create jobs for the youth.
'We aim for efficiency in our governance process for creating a business climate that will rank very high, investing and infrastructure to open up the country, a healthcare system that provides for all, providing quality teaches in a highly improved schools system, providing good drinking water for the people and in making Ghana a much safer place for the citizenry' he added.