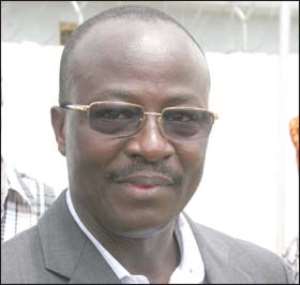 Nana Ohene Ntow PRESIDENT JOHN Mills was on Tuesday indicted on charges of dishonesty and insincerity by the New Patriotic Party (NPP).
The party's Chief Scribe, Nana Ohene-Ntow, alleged that because the Mills-led government wants to give the NPP a bad name, it has deliberately decided to be insincere and untruthful about the true state of the economy.
 He said the government's resolution to be insincere was reflected in the State of the Nation's Address which President Mills delivered to Parliament on the19th of last month.
Addressing a news conference, Nana Ohene-Ntow said "it was misleading for the President to promise to revive the Aveyime Rice Project when Prairie Texas won the bid in early 2008 to invest in that particular project and has been working there since.
"The President in his address also contradicted his Finance Minister by painting a rather gloomy picture of the economy; obviously the NDC government doesn't seem to be sure what to tell the world about Ghana's economy and these contradictions have happened because the intention has not been to honestly discuss the economy; the intention has been to let the NPP government look bad." Ohene-Ntow stated."
He continued that President Mills was eager in mentioning the country's budget deficit without being courageous to explain what significant projects accounted for the said deficit.
Ohene-Ntow further slammed the President for his comments that the combined debt figure of Tema Oil Refinery (TOR) and the Volta River Authority (VRA) stood at US$2 billion.
"We suspect that the President deliberately took the current liabilities of TOR and ignored their current assets; this is nothing but dishonesty... may we caution that this passion to paint a negative picture of Ghana's economy for the purpose of achieving some non-existent short-sighted political advantage is unfortunate and would undermine confidence in the economy and hurt us in the long run." the NPP General Secretary noted.
He  said though President Mills had called the State of the Nation Address a "Rescue Plan," it turned out to be one that was deficient in fresh initiatives and a mere recount of ongoing interventions that were started by the NPP administration.
Citing instances to support his claim, Ohene-Ntow said the President's promise to improve the working conditions of teachers was only supported by an assurance to pay teacher allowances promptly while on the development of sports infrastructure, the President only promised to manage the four stadia the NPP led-government had already built, so his government would reap maximum revenue from it.
He said the original policy of the NPP was to build a new stadium for every region.
By Halifax Ansah-Addo