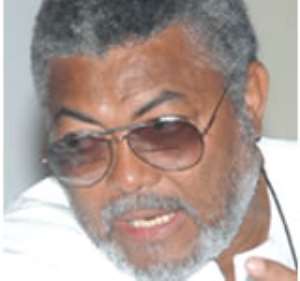 Former President Jerry Rawlings has told top achievers from across Africa and the UK about his secrets to attaining success as a leader.
As part of the Council's Inter-Action Strategic Leaders programme, Mr Rawlings gave the high level professionals an exclusive insight into life at the top and revealed tips on leading a team, managing change and motivating a nation.
According to a press statement from the British Council of Ghana, the Inter-Action Strategic Leaders programme was the first of its kind and was aimed at providing current chief executives and leaders from the private and public sectors with the appropriate skills and tools to be the best they could be as leaders.
A governor of a Nigerian state, the managing director of an insurance company and a director from the presidential administration office of Cameroon were among the seventeen strategic delegates who participated in the innovative programme.
Mr Moses Anibaba, Director of the British Council in Ghana said, "I'm delighted with the response we have had to the programme and even more proud that top level leaders have challenged themselves to further improve their skills in order to be effective leaders."

The four day event which took place in Accra was the brainchild of the British Council as part of its commitment to identifying leaders and equipping them further to effect change, necessary in an ever-evolving world.
Professor Stephen Adei, former Head of UN Systems in South Africa and former Director of the Ghana Institute of Management and Public Administration (GIMPA) also briefed the participants.
During his tenure at GIMPA, Prof. Adei turned the once small institute into a formidable and profitable education centre that continued to rival the larger, well established universities in Ghana.
Delegates from the three Inter-Action hubs namely Botswana, Ghana and the UK will meet again in Kenya, where they will further discuss their breakthrough initiative and complete the programme.
The Inter-Action Strategic Leadership Programme (IASLP) is a highly innovative and successful programme, which offers the opportunity for recognised leaders from the public, private and voluntary sectors in Africa and the UK to explore issues that can help transform their organisations and businesses into being highly productive, globally competitive and socially responsible.