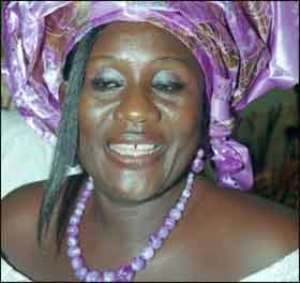 Ms Frances Asiam Ms Frances Asiam, a political activist, has successfully undergone a surgical procedure to re-set her arm after an accident in which her pickup somersaulted at Madina last weekend.
The medical procedure took place at the Police Hospital where at the time of filing this report yesterday, she was recuperating.
When DAILY GUIDE spoke to her, she was amazed that the Divisional Police Commander for the area where the accident happened and in whose custody the two vehicles are parked said he only read about the incident in the DAILY GUIDE.
She also expressed surprise that to date no policeman or woman has approached her for a statement about what happened.
"But for Mr. Timbilla, the Police Director of Operations who visited me when he heard that I had been hospitalized during a visit to his sister at the facility, no police officer has approached me for any story," she said.
According to her, after the accident, the MP for the Abokobi/Madina constituency, Hon. Amadu Sorogho was said to have visited the accident scene.
She however said, "that was all because he never bothered to visit me in hospital. I am wondering why he considered visiting the accident scene important but not seeing me in my hospital bed."
Ms Frances Asiam, the firebrand female politician, survived a scary accident last weekend when her Nissan pickup was hit from the rear and somersaulted in the event.
She was rushed to the Police Hospital where her fear about a fracture was allayed and she was eventually operated upon and admitted at the facility.
The accident occurred when the she was returning home after a radio programme at the Asempa FM studios in Accra.
By A.R. Gomda