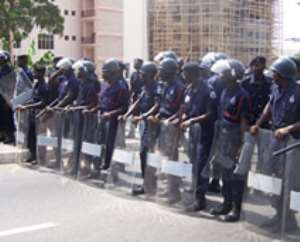 The Interior Minister, Cletus Avoka has proposed new guidelines to raise professionalism in the Ghana Police Service.
Personnel would be required to sign performance contracts with the service which would inform their continued stay in the service.
Explaining the modalities to Joy News, Mr. Avoka said personnel who fail to measure up to expectation will be thrown out, adding the move will lead to better service delivery.
The police administration has come under scathing verbal attacks in recent times following alleged acts of corruption and unprofessional conducts by some of its personnel.
Some of the personnel have also been accused of being partisan in the wake of the recent violent clashes in Tamale that claimed one life and injured six.
The new move by the Minister will also determine how personnel within the police service will be promoted.
Asked how the performance of the police personnel will be assessed, Mr. Avoka disclosed the setting up of a monitoring and evaluating team to undertake those critical assignments.
He was not too sure however, how the team will be constituted, but maintained when it is done the public's perception of the police will change for the better.
Story by Nathan Gadugah