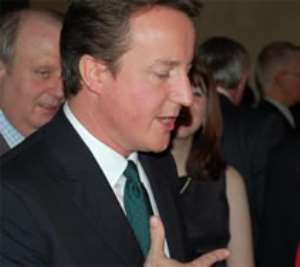 Conservative leader David Cameron's eldest son Ivan has died in hospital.
The six-year-old, who had cerebral palsy and epilepsy, became ill overnight and was taken to St Mary's hospital where he died early Wednesday.
A Conservative spokesman said: "David and Samantha would ask that their privacy is respected at this terribly difficult time."
Mr Cameron, who described Ivan as "wonderful", and wife Samantha have two younger children, Nancy and Arthur.
A Conservative Party statement said: "It is with great sadness that David and Samantha Cameron must confirm the death of their six-year-old son Ivan.
"Ivan, who suffered from cerebral palsy and severe epilepsy, was taken ill overnight and died at St Mary's Hospital, Paddington, early this morning."
'Wonderful'
Responding to news of Ivan's death, Prime Minister Gordon Brown said: "Sarah and I were very saddened to hear of the death of Ivan and we have sent our condolences to David and Samantha. The death of a child is a loss no parent should have to bear.
"I know Ivan was a child who brought joy to all those who knew him and his was a life surrounded by love.
"The thoughts and prayers of the whole country are with David, Samantha and their family."
Mr Cameron, who has been leader of the UK's official opposition since 2005, had been an MP for Witney, in Oxfordshire, for less than a year when Ivan was born in April 2002.
Describing the moment when he learned of Ivan's disabilities, Mr Cameron told the Sunday Times in 2005: "The news hits you like a freight train.
"You are depressed for a while because you are grieving for the difference between your hopes and the reality. But then you get over that, because he's wonderful."
The BBC's political editor Nick Robinson said Mr Cameron's experience of looking after Ivan, who needed round-the-clock care, had shaped Mr Cameron's character and his attitude to the NHS.
Shadow Foreign Secretary William Hague will stand in for Mr Cameron as Conservative leader while he takes time off, it is understood.