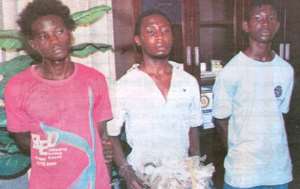 Three Nigerians have been arrested by the police at Gomoa Budumburam for allegedly kidnapping a South Korean, Park Dong-Man, 53.
The suspects, Peter Ogbole, 16, Uko Kenneth, 22, and John Bull Agu, 26, are in police custody assisting in investigations.
The police is also looking for the alleged gang leader, Mustapha, and six others, who are on the run.
Briefing the media in Accra yesterday, Director General of the Police Criminal Investigation Department (CID), Deputy Commissioner of Police (DCOP), Frank Adu- Poku said Dong-Man told the police that he was lodging with a business partner at a hotel, in Accra when he had a call on February 8, from one Mustapha to meet him at Abeka Lapaz for a business transaction.
DCOP Adu-Poku said at Lapaz, Dong-man met Mustapha and nine others who took him to Budumburam where the supposed business was to be transacted.
At Buduburam, Mustapha and his accomplices allegedly demanded 200,000 dollars from Dong-man.
He said because Dong-man could not provide the amount the group tied him up, cellotaped his mouth and confined him to a room for two weeks, saying that he would be released after he paid the money.
DCOP Adu-Poku said the group also cut the right little finger of Dong-man for failing to give them the money.
Later, Mustapha ordered the three suspects to monitor his movement and ensure that Dong-man did not escape.
Somehow on February 19, Dong-man escaped through a window and reported his ordeal to the Budumburam police who relayed the information to the police headquarters.
DCOP Adu-Poku said personnel were dispatched from the police headquarters to the area and some members of the gang were arrested.
DCOP Adu Poku said his outfit would investigate whether Dong-man who has resided in Ghana for four years entered the country legally.
He said the suspects will be put before court on charges of conspiracy, kidnapping and causing harm.
DCOP Adu-Poku cautioned the public that with the discovery of oil in the country, all manner of people with different characters will enter the country to engage in acts like kidnapping which hitherto was absent in the country.
Speaking to the media, the suspects claimed that even though they knew Mustapha and the other accomplices who kidnapped Dong-man, they were not part of the said operation.