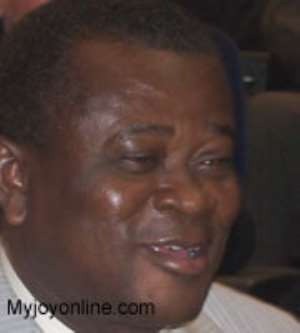 The Director General of the Ghana Broadcasting Corporation, Mr William Ampem Darko, says he will not succumb to pressure on him to resign.
His comment comes amid gales of criticism being fired at him and the many calls in the media that he should be given his walking papers, after last Friday's abrupt ending of the Breakfast Show on GTV.
Anchor of the programme Gifty Anti was forced to announce on set that the programme had experienced "a technical hitch" for which reason it could not continue.

Mr Ampem Darko had instructed that the programme to be truncated because the panel was politically imbalanced against the ruling National Democratic Congress (NDC).
The Director General in an interview with Citi FM on Monday justified his action, saying the panel, which was discussing the President's State of the Nation address, was not properly constituted.
New Patriotic Party (NPP) Member of Parliament for Kwadaso, Dr Owusu Afriyie Akoto, Miss Ursula Owusu, a known defendant of NPP and Mr John Gyinapo of the NDC constituted the panel.
Mr Ampem Darko disclosed that two producers on the programme have already been yanked off while proposals for the show to be reorganised are being considered.
He dismissed criticism that he took the decision to please the ruling party, stressing "The decision was strictly mine."
The Director General also denied truncating the programme after receiving a call from Mr Richard Quarshigah, a member of the NDC.
He said although Mr Quarshigah had called him to express reservations about the panelling of the programme, his call was after the show had been put off air.
Fear losing job?
"The GBC Director General is not appointed by the government so the government cannot dismiss the Director General of the Ghana Broadcasting Corporation."
Mr Ampem Darko poked the National Media Commission (NMC) as the oversight body that appoints persons to fill the position of the Director General and that it is rather disingenuous to brand his appointment as a political one.
He served notice he would endeavour to serve the country in his position without any fear of losing his position.
Ursula, Quarshigah comment
Ms Ursula Owusu has described the decision of the Director General on Friday to put the Breakfast Show off air as "a case of extreme over-reaction."
"For me the first mistake was taking the programme off air and everything that has happened subsequently….shows that they are panicky…. I will just urge all of them to step back and reconsider all those decisions that are being taken," she said.
Mr Richard Quarshigah says persons calling for the removal of the Director General have no point.
"I don't believe in the concept of people being appointed by a certain regime and therefore if there is a regime change then apparently they should lose their job," he emphasised.
Mr Quarshigah indicated that running the state broadcaster as if it were a political press house could spoil its core functions.
Story by Fiifi Koomson