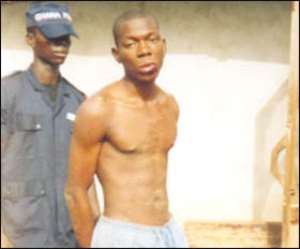 Joshua Bansah RESIDENTS OF Saviefe-Gborgame in the Ho Municipal Area were in the early hours of last Friday greeted with the bizarre news of the murder of Ms. Pray Caroline Opoku, whose lifeless body was found in a pool of blood in her living room.
Ms Opoku, 58, who was a teacher at the Saviefe-Gborgame Evangelical Presbyterian (E.P) Primary School was murdered by her 19-year-old adopted son, Joshua Bansah, a first year student of the Agortime Kpetoe Senior High School also in the Volta region.
Narrating the incident to DAILY GUIDE, the Anyirawase District Police Commander, Assistant Superintendent of Police (ASP) Stephen Kofi Ahiatafu said the deceased who was said to be childless had been taking care of the suspect from infancy.
According to him, after the suspect who is the biological son of the deceased person's younger sister passed his Basic Education Certificate Examination, the deceased got him enrolled at the Agortime Kpetoe Senior High School (SHS).
ASP Ahiatafu continued that a few months after his admission to SHS the suspect begun behaving abnormally and usually beat people around him without any justifiable reason.
As a result of the strange behaviour of the suspect, the deceased requested that he should be brought back from school so she could send him to hospital for medical attention.
The suspect was reportedly brought home last Thursday so the mother could take him to the hospital on Friday.
It was on the dawn of Friday that the suspect allegedly took a cutlass and inflicted two deep cuts on the forehead of his mother, who screamed for help in vain. However, a cry for help by a 16-year old girl believed to be the deceased's house help attracted people to the scene.
The suspect, after the act, run into the bush and the youth of the town had a hectic time apprehending him. But for the timely intervention of the Police the suspect would have been lynched.
DAILY GUIDE gathered also at the Anyirawase Police Station that the suspect was making life hell for other inmates of the police cell as he defecates and smears it on his body and throws the rest to the inmates.
He also allegedly refuses any food given him but consistently requests that a pastor should be called to come and pray for him.
ASP Ahiatafu indicated that his outfit is investigating the incident.
From Wise Donkor, Saviefe-Gborgame, V/R