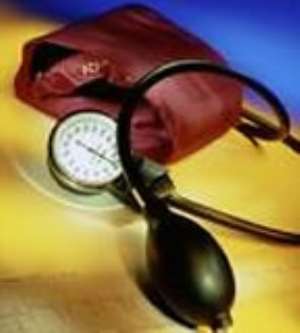 Professor Edward Yeboah, a Consultant Urologist, has advised Ghanaians to seek early medical attention for genital urinary disorders to avoid complications in life.

He noted that the disorders were becoming common among Ghanaians both the young and old.

Professor Yeboah gave the advice when delivering the 42nd J.B. Danquah Memorial Lectures in Accra on Thursday.

It was under the theme: Genital and Urinary Disorders and Services in Ghana: The Past, Present and Future".

The lectures were instituted in 1968 in memory of Dr Joseph Boakye Danquah, a Founding Member of Ghana Academy of Arts and Sciences, who died in prison in February 1965, fighting for freedom in all its manifestations.

Professor Yeboah said available statistics at Korle-Bu Teaching Hospital indicated that more than 1,000 new cases of urinary disorders at the Outpatient Department were recorded annually, more than 400 emergencies, review more than 10,000 cases and perform other major procedures.

He said the common urinary problems reported were inability to pass urine, difficulty of urination, inability to control urination leading to wetting oneself and urethral obstruction.

Professor Yeboah said there were complications of self-administered herbal medications, water and urine therapy and other medications that could cause problems.

He said while most of these problems could be treated through simple surgical procedures and medication, failure to seek medical attention at the earliest usually resulted in complications.

"Patients should be aware that early consultations with physicians, the better their chances of cure," he said.

Professor Yeboah, a Past President of West African College of Surgeons, urged individuals to pay attention to pain arising out of the genitor-urinary system since that might be signs of stone diseases, infections, injuries, obstruction to urine flow or cancer

He said advanced technology and government policies to improve equipment in the hospitals over the years had led to the acquisition of modern investigative equipment making it possible to detect the diseases.

Professor Yeboah said an intensified public education would enable Ghanaians become aware of the conditions and effects of water therapy, urine therapy and some of the side effects of self-administered herbal preparations, which could lead to excessive bleeding after surgical procedures, kidney failure and cancers of the kidney.

He said to facilitate good health, families should have family physicians at clinics and polyclinics who could easily be consulted regarding ill health and effects of water, urine and self-administered herbal and other self medications.

Professor Yeboah stressed the need for more specialized urological services and the increase in urologists from the present 1:1.5 – 2million to 1:500,000 people or less.

He said in addition, there was the need to build more urological centres in the regional and district capitals well equipped and staffed to provide treatment for urological emergencies as well as train personnel to man them.