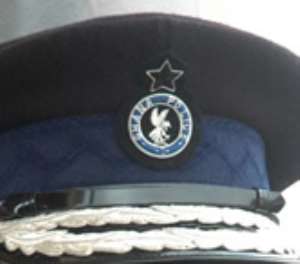 An officer with the Ghana Immigration Service (GIS) at the Elubo Border has been arrested for snatching a saloon car from an Accra-based businessman after stabbing him several times.
The victim was later abandoned in the bush at the Ankasa Game Reserve in the Western Region.
Unfortunately for the suspect, Assistant Immigration Control Officer (AlCO) Eric Anso, on his way to sell the vehicle to someone waiting to buy it at the Elubo Border, was involved in an accident with the Golf car, which had a foreign registration number, and was later arrested by the police. He, however, escaped unhurt.
The cries for help by the victim, Henry Sowah, attracted the attention of residents who rushed him to the Effia-Nkwanta Regional Hospital in Sekondi where he is said to be in critical condition. According to the Western Regional Crime Officer, Mr Victor Agbetornyo, the suspect had gone to Accra, where the businessman was based, and told him that a friend of his (the suspect) at Elubo wanted a saloon car to buy.
Anso, being an immigration officer, was trusted by the businessman, who decided to go with the suspect and the car to Elubo, where the buyer was said to be waiting ready to pay for the vehicle.

The crime officer said after passing through the Samenya Barrier to the entrance of the Ankasa Game Reserve, the immigration officer told the businessman, who was then driving, that he should branch off into the game reserve to enable him (the officer) to see a friend.

The unsuspecting Sowah, who did not know the terrain of the reserve, branched off. According to the crime officer while the two were in the reserve, the suspect ordered the victim to get out of the car, after which he stabbed him repeatedly and left him in a pool of blood.
The crime officer said the suspect then sped off with the vehicle but, unfortunately for him, he got involved in an accident.
Mr Agbetornyo said Sowah was later rescued by the town folks who were attracted to the scene by his cries for help.
He said after listening to the victim, the residents mounted a search for the suspect mat night and made a call to the police for assistance.
The crime officer said Sowah's family, who reside in Accra, were yet to be contacted, since the victim was unconscious and could not give the police any information about himself.

The suspect is currently in the custody of the Western Regional Police Command, while investigations continue.