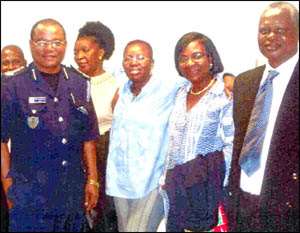 Some CEPSofficials in a group picture Fifteen Senior Officers of the Customs, Excise and Preventive Service (CEPS), headed by Deputy Commissioner of Human Resource and Administration, Paul Adubofour, are attending a specialised training programme at the Canberra University in Australia.
The programme formed part of a tripartite agreement signed by CEPS, the University of Canberra and the Ghana Community Network Services (GCNet).
The first batch of 15 officers currently in Australia would pursue courses in customs control, risk profiling and management fraud detection. This includes special models covering warehousing, free zone operations, transit transhipment operations as well as management.
The training, which is also a preparatory arrangement for improving customs management system, is agreed to have an intake of 50 Customs officers.
Moreover, this programme is an ongoing capacity building one for CEPS in the areas of tax assessment, audit and valuation.
By Nathaniel Yankson