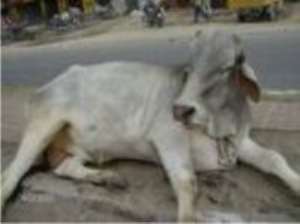 The search for his lost cow led Mohamadu Djanyo, a Fulani Herdsman, back into the hands of the people whose property he had allegedly burnt in the Atsanve forest at Gbefi-Tornu, near Kpando.
Djanyo was consequently brought before a court at Hohoe charged with intentionally and unlawfully causing damage to a four-acre maize farm valued at GH¢600, a two-acre palm plantation worth GH¢ 400 and a cottage, the property of Moses Avenyeku and George Ayisi.
Dyanyo's plea was not taken and was granted bail in the sum of GH¢ 2000 with a surety to reappear before the court on March 4, this year.
Police Prosecutor, Mr Samuel Gbedemah, told the court, presided over by Mr Edward K. B. Apenkwa, that Djanyo moved into the said location with his herd for grazing, on December 22, last year, and intentionally set fire to the bushes.
He said the complainants, who were not far from the scene, rushed to the source of the smoke and saw the suspect with a lighter in his hand.
Mr Gbedemah said Djanyo fled to join six other herdsmen, wielding sticks and machetes, compelling his pursuers to give up the chase.
He said the fire spread quickly causing considerable damage before it was brought under control.
Mr Gbedemah said Djanyo returned on January 5, this year searching for a lost cow, which was in the custody of the complainants, who caused his arrest.