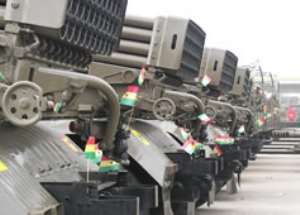 Lieutenant-Colonel Francis Vib-Sanziri, Commanding Officer of the Second Battalion of Infantry, has called on military personnel to update their knowledge about country's democratic dispensation.
"An updated knowledge will help us to understand that good governance, rule of law and loyalty of the military to civil authority are the accepted norms in our current dispensation" he said.
Lt-Col Vib-Zansiri said this at a pull-out parade and change of baton at the 2BN at Apremdo near Takoradi on Friday.
He reminded the army that it cannot remain wholly immune from change in the society it serves.
The parade was made up of six officers and 122 men with Captain Eric Ametamey as the parade commander.
Lt-Col Vib-Sanziri reminded soldiers that society would lose its trust and confidence in them if they abused the trust reposed in them and urged them to live up to expectation.
He reminded soldiers that to achieve success in all endeavours, there must be training.
"Those of you who do not want to go on courses to enrich your professional knowledge and want to go on external operations cannot be relied upon" he said.
Lt-Col Vib-Sanziri took command of the 2BN from December 23, 2004 to December 31, 2008.