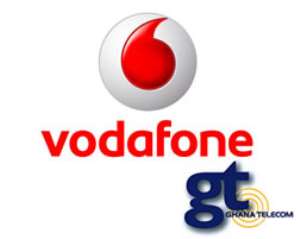 The sale of seventy percent shares in Ghana Telecom (GT) to Vodafone International Holdings BV of the United Kingdom (UK), which sparked a lot of controversy in the country, has finally landed before the law court to determine its legitimacy.
The legal suit, which was initiated by some members of the Convention People's Party (CPP) against the Attorney General and GT, raised issues bordering on the constitutionality of the sales agreement of the nation's telecommunication company, the jurisdiction of the Commercial (High) Court in determining the issues at stake, as well as the capacity of plaintiffs in initiating the suit.
The issues, among others, were settled for determination during a pre-trial session conducted after the suit was filed in court, over the sale of GT at an approximate value of US$1.3 billion, plus a cash injection of US$500 million, totaling US$1.8 billion.
The plaintiffs, who are all members of the CPP, include Prof. Agyeman Badu Akosa, Kosi Dedey, and Dr. Nii Moi Thompson.
The rest are Naa Kordai Asiedu, Ms. Rodaline Imoru Ayarna, as well as Mr. Kwame Jantuah.
The plaintiffs are challenging the constitutionality of the sales agreement of the telecommunication company, stressing that the process adopted, prior to, and leading to the placement of the sales and purchase agreement before Parliament for ratification, contravened the company's code and the Constitution.
However, Mr. Bright Akwettey, counsel for the plaintiffs, Mrs. P. J. Naana Dontoh, Chief State Attorney and Mr. Festus Kayi, counsel for Ghana Telecom, yesterday noted before the court, presided over by Justice Amidu Tanko, that they had not been served with copies of the pre-trial issues that were agreed on.
The court thereafter asked the parties to the suit to submit their legal addresses, as it allow them to file their affidavits verifying the sales agreement document.
The court therefore adjourned the case to February 9, this year, when it would determine the issues of jurisdiction raised by the defendants, emphasising that if the plaintiffs succeed in convincing it on the issue of jurisdiction, it would go ahead and determine the capacity of plaintiffs in the suit, before proceeding to legal matters raised over the sale of GT.
The Government of Ghana, on July 3, last year, signed a Sale and Purchase Agreement with Vodafone to sell off 70% of the former's stake in GT to the latter at a total value of US$1.8 billion.
The Sale and Purchase Agreement was consequently ratified by the Parliament of Ghana on August 14, 2008, giving its full backing to the agreement entered into.