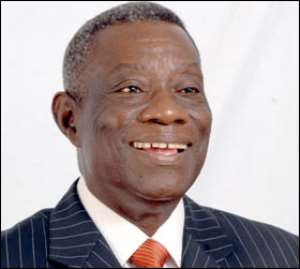 President John Evans Atta Mills President John Mills is under siege and DAILY GUIDE has gathered that groups of protestors and demonstrators would from next month hit the streets, calling on him to account for the apparent misbehaviour and rather lawless condor of some of the appointees in charge of his new government.
Indeed, a number of pressure groups are already flying petitions all over and accusing President Mills of having kept silent as his men perpetuated a well orchestrated series of human rights violations, abuse of incumbency and taking decisions which they lack the constitutional authority to take.
The Positive Action Group, the Campaign for Good Governance, the Friends of the Truth and the Coalition for Democratic Forces (CDF) are among the groups getting ready to hit the streets.
The Coalition for Democratic Forces (CDF), in a press release issued yesterday, accused the National Democratic Congress (NDC)-led government of using the Transition Team to persecute certain members of the New Patriotic Party (NPP).
The group alleged that persons acting on behalf of the NDC-led government were using wanton force and abuse of office.
"Such brutalities are reminiscent of the days of the PNDC and we shudder to think these atrocities will raise their ugly heads in a democratic dispensation.
"We call that Victor Smith and other perpetrators of these actions be brought to book as we consider the explanation of Alex Segbefia unsatisfactory," the statement noted.
The group called on the President to respect the principles of good governance and the rule of law, and asked the new government to be civil in order to boost investor confidence and grow the country's young democracy.
The statement mentioned the instance of Alhaji Muhamed Mumuni, the ministerial nominee for Foreign Affairs, acting as if he had been inaugurated as a full-fledged minister.
The CDF, in its statement, condemned the manner in which the Transition Team invited the Auditor-General to give an interim audit report on the celebrations of Ghana's 50th anniversary.
By Halifax Ansah-Addo