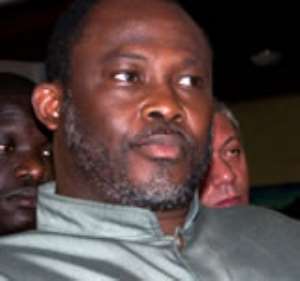 A stalwart in the ruling National Democratic Congress, Dr. Ekwow Spio-Gabrah is unhappy with President Mills for sidelining him in terms of nomination to ministerial positions.
The one-time presidential aspirant of the NDC, who contested President Mills over the party's presidential slot, told Joy FM that as a Christian if the president, in consultation with God thinks that he (Spio) has no role to play in the government, he will accept it as God's plan for him.
Speaking to Joy FM's Super Morning Show host, Kojo Oppong-Nkrumah, Dr. Spio-Gabrah said members of the NDC who are dissatisfied with his exclusion from the government may be justified.
Dr. Spio-Gabrah campaigned feverishly for the party in the 2008 general elections, and on occasions donated sums of money to support the party's campaign.
Prof Mills only last week completed his nominations for ministerial positions, but that list did not include the names of Spio-Garbrah and several others, fueling speculations that the former Communications Minister and the others had been dumped.
Resignation?
The former presidential hopeful ruled out resigning from the NDC if he is blatantly disregarded and sidelined by the president, however, he dropped clear hints he may be inactive.
If at the end the day he is not given anything, he said "I will still be an NDC member I hope, but we should not take too much risk and unwittingly put a wedge between certain members of the NDC and others because if some people begin to feel that some NDC members are second class citizens in their own party or in spite of all their efforts they are consciously and deliberately being marginalisd, then we can assume that the NDC cannot expect those people to be active members of the party."
Flaunting his contributions to the party's success in the December 2008 elections, Spio as he commonly called in NDC circles, reminded the party that it won by only 40,000 votes, emphasizing that he possibly contributed more than that number of votes to propel the party to victory.
The articulate NDC guru also served notice he will not accept any deputy ministerial appointment having served as a substantive minister in many capacities in the past NDC government.
He appealed to other disgruntled members of the party to keep their fingers crossed as there were still many appointments to be made.

"I try to make my mind work a little better than my heart in matters of this nature and the part where my mind works is that Ghana needs all its able and talented people to move the agenda of development forward so whether a person is resident in Australia or in London or Bunkrugu if that person is… perceived as somebody who can contribute to the nation's development then all efforts must be made to get that person involved."
Dr. Spio-Gabrah, who is currently based in London (but spoke to Joy from South Africa) working with the Commonwealth Telecommunication Organisation, rejected suggestions that he was offered an appointment which he didn't like so he declined the offer and moved to London.
He said there were discussions between him and the president but "you see God is control."
"It could be said that I did not lobby for a post… and so if others went and lobbied for it and my name is not on the list, am not blaming them for it, am not blaming Prof. Mills for it but (what) am saying is that the party rank and file in general is not happy, not just about me but about the overall appointment process".
According to him, the appointment process was handled in a manner as to create the impression that those who lobbied hard got appointed while others who deserved to be appointed were ignored.
The communications expert said success has many fathers so the NDC's success had seen many people showing up to claim ownership of the success.
Dr. Spio-Gabrah expressed regret at suggestions that the requirement for him to still remain at his current post for at least three months made it impossible for him to be nominated.
He said the suggestion was laughable and asked whether that requirement was not applicable to the nominee for Attorney-General and Minister of Justice, Mrs Betty Mould Iddrisu, who is the Director of Legal and Constitutional Affairs at the Commonwealth Secretariat in the UK.
Ask the president
'Are you on good terms with the president?', he was asked, and he responded, "well only the president can answer that question with regards to his attitude or feelings towards me but I believe I'm on good terms with him, to the extent that I left my job on many occasions at my own volition without being requested and came to Ghana on many occasions to help him campaign."
He said he campaigned fervently with the president and was available to assist and serve the country.
"As far as relationships are concerned I try to be on good terms with my neighbour as God will ask us to be, but (it) is up to other people if they feel that there is something I have done or there is something about me that they don't want to associate with me," to do what they wish.
Asked how he will describe his relationship with the president, he said, "well we are collaborators, we are in the same party, I support him as an individual, I respect him as president, I wish him well for his administration (because) if he succeeds (it) is a success for all of NDC and all of Ghana."
He said most Ghanaians expected the president to put together a team that will help the country this year, which from all indications will be a difficult one.
Spio would not tell if he is still interested campaigning to be president, explaining that Ghana has a new president in Prof Mills who he said was sworn into office barely a month ago and needed to be supported to manage the country.
Story by Malik Abass Daabu