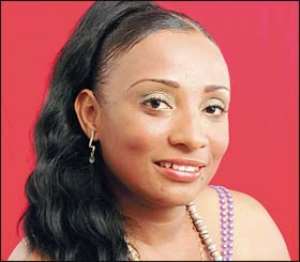 Zita Okai-Kwei-Information Minister designate INSOMNIA, PANIC and paranoia have gripped a number of ministerial nominees scheduled to face Parliament's Appointments Committee from this Friday February 6, 2009, DAILY GUIDE has learnt.
Some of the nominees have started intensive lobbying in order to prevent a situation whereby their dark sides would derail their ambitions.
Intriguing revelations show that a number of the ministerial hopefuls are reported to have engaged in a number of dodgy deals including visa fraud, cheating in the Consolidated Fund, brutal beating of their wives, rampant assaults and various degrees of suspected illegalities.
It is even suspected that one of the nominees might initiate an ethnic cleansing operation in one of the three Northern regions should he get the ministerial confirmation and DAILY GUIDE has gathered that loads of petitions on these concerns are flying in from various quarters to the Office of the President and to members of the Vetting Committee.
One of the petitions, sighted by DAILY GUIDE, virtually stripped naked a female ministerial nominee who has a flair for the law. She was alleged to have been a very shady character during her tertiary school days in Ghana and was so sly to the extent that she carried out her deals under three different sets of names - each of the altered names known to a different set of people.
The petitioners, including school mates, revealed that from her school days till now, a period spanning over a decade, people have known the said lady as a visa racketeer, an aside profession she was initiated into by her school days lover, to whom she is now married.
The nominee, a failed parliamentarian in the Greater Accra region, is said to have perfected the visa racketeering deal that tongues have started wagging that if she succeeds in getting the nod, she would have been given a blank cheque to carry out her nefarious activities.
A number of women activists are reported to be lacing their boots to stage a protest at Parliament House on the day that a particular nominee, reported to be a wife beater, would be facing the Vetting Committee.
The said nominee is reported to have a nerve-wracking habit of turning his wife into a punching bag at the slightest provocation and in the full glare of their children, subjecting her to physical harm and torture just to satisfy his chauvinistic ego.
It is reported that during one of the frequent boxing bouts in his matrimonial home, the ministerial nominee in question violently boxed his wife to pulp, shoved her hapless and hurting body into his car and drove out of the house only to dump her near the Osu Cemetery.
Indeed, a group calling itself the Alliance for Accountable Governance would this morning hold a news conference at the Ghana International Press Centre to disclose what they describe as "facts concerning certain ministerial nominees which disqualify and make them unfit for high office of Minister of State".
The group, in a letter to the media, mentioned four ministerial nominees whose dark pasts would be brought to light at today's news conference.
The ministerial nominees are being haunted by shadows from their dark pasts and are frantically bending over backwards to prevent certain skeletons from dropping out of their cupboards before the vetting date.
Another of the nominees, a former Member of Parliament, is on record as having grossly flouted article 98 (2) of the 1992 Constitution which states that "a Member of Parliament shall not hold any office of profit or emolument, whether private or public and either directly or indirectly, unless permitted to do so by the Speaker acting on the recommendations of a Committee of Parliament..."
The said nominee, without any permission from Parliament, is reported to have worked full time as a Legal Consultant to a Tema-based entity, while she was still a sitting Parliamentarian.
Consequently she enriched her private purse by receiving two sets of salary all charged from the Consolidated Fund at the same time.
A male nominee eyeing a security related portfolio is known to have shown an open bias for an ethnic group that is at war with another ethnic group in the northern parts of Ghana but is reported to be at his wits end in his efforts to play down the issue.
Indeed one of the warring factions has expressed fear that they would suffer great losses should the said nominee be given the nod to occupy the security related position.
A Daily Guide Report