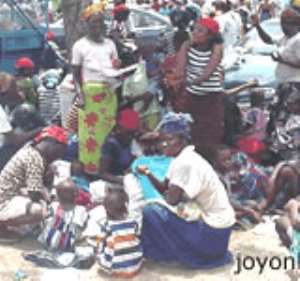 The United Nations Development Programme (UNDP) in collaboration with Africa 2000 Network, an international non-governmental organisation, is supporting 2,600 members of the Loggu community in the Wa East District to undertake economic ventures to reduce poverty.
Under a five-year "Sustainable Livelihood Programme" the two organisations are supporting 37 communities in all the new districts in the three northern regions with resources to reduce poverty.
The Loggu community, which is one of the beneficiaries, had been provided with improved seeds, fertilizers, insecticides and gardening tools to go into dry season gardening to produce vegetables in large scale for sale at the Wa market.
A dugout is under construction to help provide more water for the gardeners to undertake animal husbandry.
Mr. Iddrisu Mac-Adams, Chairman of the Village Development Committee, said the programme had provided 250 seedlings for the community to establish woodlots.
The people had also been supplied with 200 mango seedlings to establish a mango plantation and two pairs of bullocks to help in land preparation as well as for carting of vegetables from the farm.
Mr. Mac-Adams said members of the community had also gone into cowpea production and sheabutter extraction.
He said the two organisations had been collaborating with the Ministry of Food and Agriculture extension officers to provide the farmers with improved seeds and training on modern farming practices such as farm management.
Mr. Mac-Adams said the community had formed a disaster management team that is responsible for educating the people on disaster prevention and disaster control with assistance from the programme.
"Our community members now know how to plant trees around their buildings to serve as wind breaks," he said.