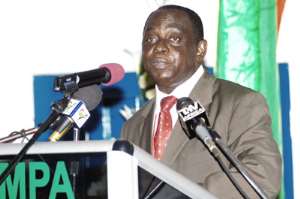 Mr Joe Issachar the Head of Civil Service
No staff of the Ministries which were recently scraped by the government will be laid off, the Head of the Civil Service, Joe Issachar, has said.
He said all of the functions of those ministries will still remain except that they will now be performed under different ministries.
Mr Issachar disclosed this in an interview with the Times in Accra last Tuesday on the effects of President John Atta Mills' decision to realign and reduce the number of ministries to among other things, reduce cost of governance.
He said he is due to meet with directors of the affected ministries today to discuss the details of the realignment.
Mr Issachar disagreed with the notion that the re-alignment will result in the concentration of too many staff at the ministries where they will be moving.
The former Ministry of Parliamentary Affairs for example, has just about a staff of four so they will not be too many to be absorbed by another ministry, he explained.
He described personnel at the ministries as 'generalists' who can operate effectively at every ministry that they may be sent.
With the former Ministry of Fisheries, Mr Issachar said it will also be easy to bring back its staff to the Ministry of Food and Agriculture to perform their usual functions.
The Agriculture Ministry has several units of which the Fisheries division can form part without much problem.
On the issues of the Chief Directors and how to place them under ministries which already have Chief Directors, he explained that with the exception of the Chief Director at the former Ministry of Aviation, the others either do not have Chief Director or those at post are due for retirement.
'The Chief Director at the Ministry for Fisheries, for example, was due for retirement last December and so for those people, it is just a matter of not renewing their terms' he explained.
Last Friday, January 24, the President announced the realignment and reduction of the number of Ministries from 27 under the former administration to 23.
The affected ministries are Parliamentary, Mines, National Security, Fisheries, Public Sector Reforms and Aviation have also been withdrawn.