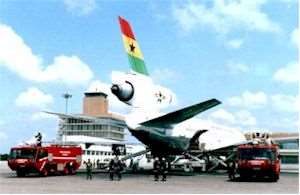 Some disappointed and stranded passengers who were scheduled to board Ghana Airways from Banjul to Baltimore in the USA, last Sunday threatened to burn the aircraft and Ghana Airways offices at the Banjul International Airport in Yundum.
According to the passengers who were mainly students studying in the United States, they were informed by Ghana Airways officials that the Ghana Airways flight was to arrive in Banjul by 10.00 am on Sunday January 13, 2002 but upon the passengers' arrival on Sunday morning, they were informed that the aircraft had arrived at 3 am, six hours earlier than scheduled and had gone to the United States.
The passengers further alleged that the aircraft flew into Banjul International Airport at about 3 am full of passengers and left for the USA.
Some of the disappointed passengers expressed concern that their I-20 forms were supposed to expire by January 14, 2002.
An airport official disclosed that a similar incident happened on January 6, 2002 at the airport, when 40 passengers were left stranded, after the plane came earlier than scheduled and left for the US.
Some parents of the passengers, told the Daily Observer that they were disappointed by the way Ghana Airways had been operating in the past few months, noting that in the circumstances, they had to acquire new tickets for their children from Dakar.
When this reporter arrived at Ghana Airways offices at the airport around mid-day on January 13, 2002, the offices were locked, having ascertained that the disappointed passengers had threatened to set both their offices at the airport and the aircraft ablaze.