Runoff no longer an NDC/NPP battle – Mr Annang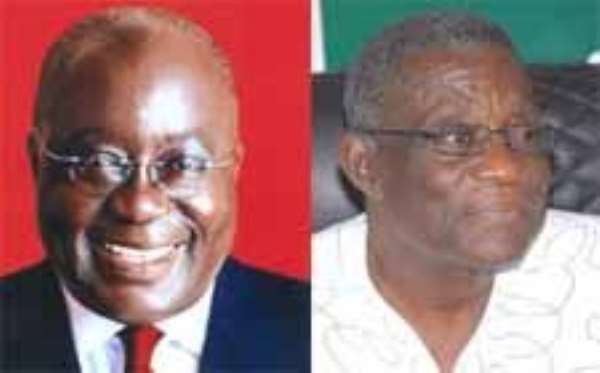 The National Democratic Congress (NDC) on Tuesday said that the December 28 Presidential Election Runoff was now a battle between Professor John Evans Atta Mills and Nana Addo Dankwa Akufo-Addo and not their parties.
Mr Danny Annang, NDC Greater Accra Regional Chairman, said the main issue confronting Ghanaians now is which of the two personalities could rule Ghana better, adding: "Prof Mills have been Vice President for four years and, therefore, know the job better."
The NDC Regional Chairman stated this at Tema during interaction with a cross-section of the media stressing that the NDC would win the presidential runoff, saying that, this time around the NDC would not allow the NPP to play some of the tricks it used in the December 7 elections.
He said in spite of the NDC electoral gains, "winning majority of the parliamentary seats – 114 against 107 by our opponents, the NDC slept over a number of issues but has now been awoken by the performance at the polls," and urged the supporters of the party to be vigilant at the polling stations.
He urged NDC faithful and cadres, who have joined other parties to come back home for victory was at the doorstep of the NDC, adding; "God will certainly crown our efforts over the past eight years with total victory as God had already given the NDC control over Parliament.
"For those who belong to the Nkrumaist tradition, the best place to belong is the NDC because Prof. Mills was a CPP activist during his student days at Legon," he said.
He pledged that a Prof. Mills led government would form a broad-based government to ensure unity and nationalism, stressing; "this has become necessary at this time of the country's history to tap the human and material resources from all parts, for national development".
The NDC Regional Chairman stated: "Prof Mills led government would initiate pragmatic measures that could assist in solving the socio-economic problems that have lowered the image of Ghanaians."
He said the nation needed a change of government and called on the electorate to vote for the winning team of Prof Mills and Mr John Dramani Mahama in the runoff on December 28.
"A change in all shades of life, undoubtedly leads to development and individuals or group of persons who oppose the change of bad government are not progressive," he said.
He also noted with concern that, through dubious machinations and orchestrated lies by some leading political opponents, some Ghanaians have seen NDC as a common enemy, which must be eliminated at all cost.
Mr Annang urged the electorate to debunk the notion and consider it as mere political propaganda aimed at dividing the nation.
He said Prof Mills and his team were capable of governing the nation with the fear of God, humane policies and creating opportunities for all Ghanaians to enjoy.