Need for coordination between electoral officers and security – Kanyi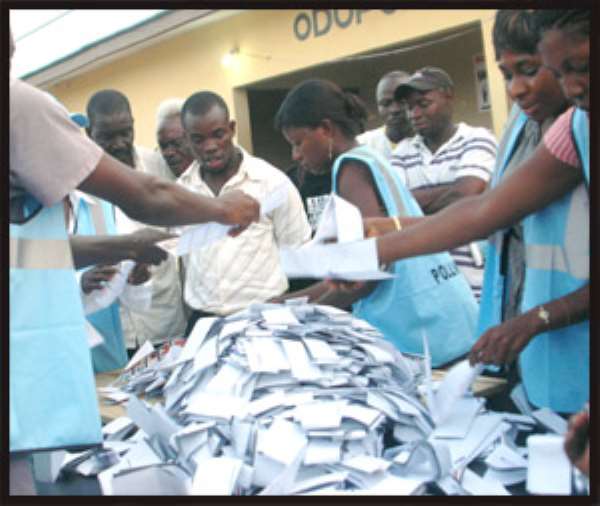 Mr Sylvester Kanyi, Northern Regional Director of Electoral Commission (EC) has called for effective coordination between personnel of the commission and security agencies to ensure proper conduct of the December 28 Presidential run-off.
He noted that during the December 7, elections deployment of security personnel to the districts created a problem when some of them arrived when Presiding Officers had already left the polling stations with the ballot boxes.
"This showed lack of proper coordination as the electoral regulations stipulated that as soon as a ballot box containing election materials were sealed it must be escorted by security personnel," he added.
Mr Kanyi made the call at a workshop on "Elections and Security Management" jointly organised by Ministry of the Interior and management of Konrad Adenauer Foundation (KAF) in Tamale.
It was under the theme "The Role of Security Services and Stakeholders in Elections (Post and Pre-elections Analysis)" and attended by personnel from the military, police, Ghana Immigration Service, Customs, Excise and Preventive Service (CEPS) and other stakeholders in the election process.
Mr Kanyi said provision of fuel, food and allowances for security personnel were not well defined since there were instances where security personnel had to contact District Electoral Officers for such logistics.
He said in some districts vehicles to convey security personnel to polling stations left them at their destinations and did not bring them back to Tamale.
Mr Kanyi said there was a problem with the use of a helicopter in the "overseas" areas in the Region because it arrived late in Yagaba in West Mamprusi after most of the election officers had already left for their polling stations.
"The few the helicopter deployed, it never returned to bring them back to Yagaba," Mr Kanyi said.
He pointed out that although the use of motor bikes was very essential due to the many inaccessible areas in the Region, the request for 30 motor bikes was reduced to four.
Dr Kwame Addo-Kufuor, Minister for the Interior in a speech read for him, appealed to the Judiciary to ensure special courts instituted to deal with election related disputes disposed them off to promote peaceful elections.
He recounted unfortunate instances where the media contributed to civil wars in some African countries as a result of electoral disputes and urged Journalists to be circumspect in their reportage.
"Please as journalists, stick to your core business of educating, informing and entertaining the public. You must concentrate on issues that are relevant to the country's development. You must avoid attacks and insults on personalities and opposing political parties," Dr Addo-Kufuor said.
Mr Issac Owusu-Mensah, Manager of Konrad-Adenauer Foundation said the workshop was to promote public safety as a mechanism of democratic development.
He said there were much tension and insecurity during Election 2008 that created unnecessary anxiety in the body politic of the country.
Mr Owusu-Mensah noted that some stakeholders believed Ghana deserved better and embarked on peaceful election related activities, adding "this has not only moved Ghana into another pedestal in democratic ranking in the world but portrayed to the world that some African countries are capable of achieving excellent mark in a democratic test."