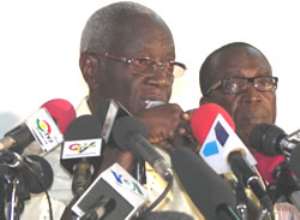 The Electoral Commission (EC) says the left fourth finger of the electorate will now be marked with indelible link instead of the small finger in the December 28, presidential run-off election.
The finger will be dipped into a bottle of indelible ink as used in the December 7 to show that one has already cast his or her vote.
The Director of Elections, Albert Kofi Arhin, disclosed this in an interview with the Ghanaian Times yesterday.
Asked why not the small finger used on Sunday, December 7, presidential and parliamentary election, Mr Arhin said the decision came up at a meeting adding that it is possible that some of the electorate may still have indelible ink on them.
Meanwhile, the National Commission for Civic Education (NCCE) said it will embark on an intensive nationwide educational campaign from next week to sensitise the electorate on how to vote.
Speaking to the Ghanaian Times yesterday, the Deputy Chairperson of the NCCE, Mrs Augustina Akosua Akumanyi said the decision on the educational drive is ready at a high level meeting which requested an intensive education drive for the election.
She said the decision has been communicated to its regional and district offices.
Mrs Akumanyi said in an interview that the commission has requested for GH¢250,000 from government to enable it to conduct effective education for a two week period.