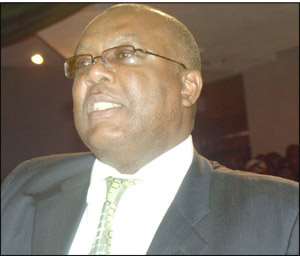 The Managing Editor of the Weekly Standard newspaper, Victor Emmanuel Smith has declared that he is ready to strike it out with President John Agyekum Kufuor in the law court to establish the truth in the allegation of impropriety he made against the President.
President Kufuor had finally instructed his lawyer to drag the one-time special aide to former President Jerry John Rawlings to court to prove his allegation of indecorousness leveled against him.
The President on Tuesday directed his solicitor, J.K. Agyeman, ex-Ghana Bar Association (GBA) President to institute the legal tussle against the man who was fired by ex-President Rawlings via a text message.
This action, coming from the First Gentleman of the land, is against the backdrop of the failure of Mr. Victor Smith to retract a story he recently authored in his newspaper, alleging that President Kufuor is indebted to some Kuwaiti oil suppliers to the tune of over $5 billion.
Speaking on Kessben Fm in Kumasi on Wednesday morning, the loyal servant of the former President asserted that he had not changed his position on the matter, and that he was ready for the legal battle with the President.
He categorically stated that he was not perturbed at all by the President's action because he knew what to tell the court.
"Let me tell you sound and clear that I'm not moved a bit by the so-called action from the President because I know exactly how to argue my case out in the court," he maintained.
Mr. Victor Smith insisted that all the wild allegations he made in the story against the President were true, and that he would do everything possible to prove the authenticity of the publication not only to Ghanaians but the international community.
In the said story, the former special aide to ex-President Rawlings alleged further that due to the President's indebtedness to the faceless Kuwaiti oil company, the personal properties of the country's head of state were being appropriated to settle the cost.
In a typical display of lack of respect for the presidency, the highest office of the land, Mr. Victor Smith further claimed that the President was being hauled to the Hague and that a certain prominent queen was pleading on the President's behalf.
When the story broke, the press secretary to the President, Mr Andrew Awuni, described the allegation as unconcealed lies calculatingly hatched as part of the National Democratic Congress (NDC) smudge campaign to denigrate President Kufuor and his government in the run-up to the election.
He therefore issued a two-week ultimatum to Mr Victor Smith to substantiate the allegation or retract the story and subsequently apologize.
But Mr Victor Smith failed to respond to the ultimatum, a development which forced the President to institute legal action against the Managing Editor of the Weekly Standard.
From Morgan Owusu, Kumasi