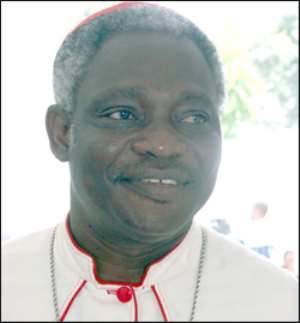 APPARENTLY FRUSTRATED over the refusal of the National Democratic Congress (NDC) to sit with the New Patriotic Party (NPP) for the two to agree on how best to maintain peace during the forthcoming polls, the latter has called on His Eminent Peter Cardinal Appiah-Turkson to intervene.
"One cannot shake hands with a clenched fist and that is why we have extended an olive branch to the NDC and called on them to cooperate with us; we wish we could have done it alone but it is not possible… We are calling on Cardinal Turkson to step in and help get all the stakeholders to commit themselves to promoting peace during the elections,"
NPP Communications Director, Dr. Arthur Kennedy, noted at a press conference last Friday.
The party further called on the National Peace Council, the Christian council and other identifiable bodies working for peace to condemn the NDC's rejection for the peace talks.
Various spokespersons for the NDC have explained that the call from the NPP was superficial and that its greatest threat to peace in the country was an alleged injustice and the absence of a level playing field for political parties.
In response, Dr. Kennedy noted that the peace offer from the NPP was genuine and was motivated by the party's desire for peace.
He debunked the assertion that some political parties were being treated unjustly and added that "by offering to work with the NDC for peace, the NPP is not forswearing justice. We believe that we can promote peace even while waiting for justice to take its course".
Dr. Kennedy alleged that the leadership of the NDC had deliberately used inflammatory languages all through their campaign and therefore accused the party of having determined to drag the country into political violence.
The NPP communications director cited various instances where the party's supporters and leaders had been violently attacked and brutally assaulted and said he had a strong suspicion that such attacks came from the NDC.
The NPP has also called on all its members, supporters and sympathizers to show restraint in the face of unjustified provocations and attacks from political rivals.
"The days when governments were changed by bullets rather than ballots are gone forever and no one can bring them back. We have run a campaign of ideas and of peace and we are wining," the NPP activist added.
Others are preaching violence because they are losing; if we work hard and keep our heads, Insha Allah, consistent with the polls, we shall win one touch," Dr. Kennedy concluded.
By Halifax Ansah-Addo