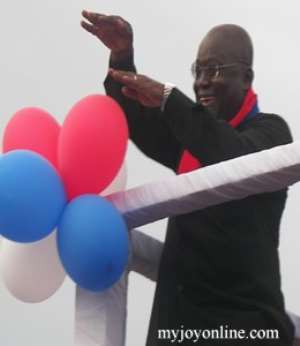 Nana Addo Dankwa Akufo-Addo, Presidential Candidate of the New Patriotic Party (NPP) has called on Ghanaians to reject the politics of tribalism and ethnicity.
He said Ghanaians were made up of several ethnic groups who had the liberty of association and therefore could belong to any political party and not be coerced into one.
Nana Akufo-Addo, said this when he was addressing the last phase of his campaign in the Northern Region at a well attended regional rally of the NPP in Tamale at the weekend.
"Don't allow anybody to bring division between us by preaching tribal politics," Nana said.
He said if the NPP administration had had the 19 years uninterrupted rule of the PNDC/NDC it would have transformed the country into a highly industrialized and prosperous one.
He urged Ghanaians not to hand over the destiny of the country once again into the hands of incompetent rulers whom he described as "small minded people who were motivated by envy and spite, and had led us to where we are now".
The NPP flag bearer said the NDC had resorted to violence, after all their politics of lies and deceit had failed, and called on NPP supporters to remain calm and not be provoked.
Nana Akufo Addo entreated the electorate to come out on December 7, to vote massively for the NPP to continue with its good works.
Mr Alan Keyerematen, a leading member of the party who was obviously elated at the crowd that turn up at the rally said; "The myth surrounding the NDC in the northern region had been broken".
He said that a 60 million dollars groundnut processing factory was to be built at Buipe in the Central Gonja District for the three northern regions, namely the Northern, Upper East and Upper West Regions.
He said about 50,000 groundnut farmers would be needed to feed the factory, adding that this would bring a lot of employment to the youth in the three regions.