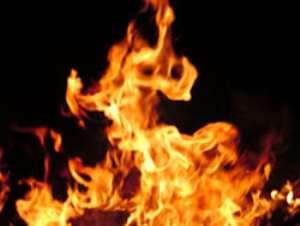 Listen to Dr. Kwesi Anning
The owner of the warehouse which exploded and caught fire last week at Anyaa in Accra would be arraigned before court today.
The police identify the owner of the warehouse as Janet Akani Sarbah, a 40-year-old Ghanaian businesswoman.
The warehouse with large quantities of firecrackers that exploded on Monday evening claimed seven lives and injured several others.
Mrs Akani Sarbah would be charged with illegal importation of firecrackers into the country, Greater Accra Regional Crime Officer, Superintendent Dennis Akob-Dem Abade told Joy News.
The police have identified other warehouses belonging to her and have placed all under surveillance pending investigations.
"We identified her house, an uncompleted building around Anyaa and there is also one at Anyaa and with the same boxes.
"They contain Christmas ware but the boxes are so many that we have not been able to open everything from box to box; because of that a guard has been placed so that we will have enough time to open everything to be sure of the content," Sup. Akob-Dem Abade said.
Meanwhile, Dr. Emmanuel Kwesi Aning of the Kofi Annan International Peacekeeping Training Centre has asked the police to facilitate investigations into the cause of the explosion and make their findings public before the election.
He also advised the police to be on top of the board and make sure they are consistent with their messages to the anxious public.
The opposition National Democratic Congress has already raised alarm about the explosion, claiming there was some ammunition among the firecrackers, but this has been countered by the ruling party - the New Patriotic Party.
"This reciprocal accusation is not necessary," the security expert cautioned.
Story by Isaac Essel