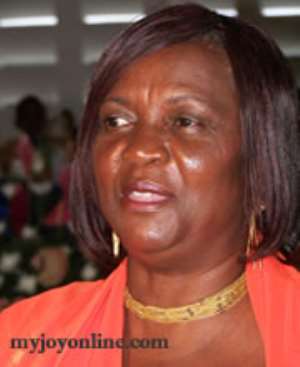 The Chief Justice, Mrs Justice Georgina T. Wood, has blamed Africa's development woes on the marginalisation of women by governments on the continent.
She said even though women produced 80 per cent of the continent's food crops, "their contribution is under-valued and invariably taken for granted."
"Women are the centre of production, but at the periphery of benefits, women count but are not counted", she stressed.
The Chief Justice stated this on Wednesday at the opening of a three-day colloquium on Gender Justice in Accra.
The conference is on the theme: 'Gender Justice conference: the role of the judiciary in promoting gender justice and equality in African countries.'
The Chief Justice attributed some of the problems to the traditional and cultural values which have prescribed roles for women, adding, "the African woman is the creation of culture, tradition and religion that subject and relegate her to an inferior position."
She said women issues were recognised as human rights issues and, therefore, required to receive maximum attention at both the national and international level, saying "human development, if not engendered is endangered."
Mrs Wood also advocated that laws be demystified and made accessible to the public.
"The legal maxim that presumes everybody to know the law is a fiction and has no place in Africa where majority of the population is illiterate," she noted.
She said the cost and time of accessing justice should be considerably reduced and urged lawyers to be encouraged to offer free services to the vulnerable.
The United Nation's Development Programme (UNDP) Resident representative in Ghana, Daouda Toure', underscored the need to improve on women's access to justice.
He said women were the most affected in Africa by conflicts and attributed this to their low level of education.
As a result, "Women in Africa tend to have the most fractured access to justice," Mr Toure said.
"Gender justice calls for a new paradigm in the education of the girl child, the modernisation of the rules of faith-based organisation and traditional institutions," he stated.
The UN country representative said unless women were offered a fair opportunity in determining their own fate and that of society, "the sustainable development of Africa will remain a mirage."