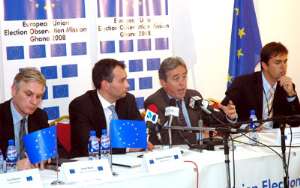 Head of EU Delegation in Ghana, Ambassador Ceriani Sebregondi (second right) addressing the press. Second from left is the EU chief observer, Nicholay Mladenov.
The European Union (EU) Election Observation Mission (EOM) will deploy a total of seventy observation experts to observe the presidential and parliamentary elections slated for the December 7 in Ghana.
This comprise long-term and short-term observers as well as other officials provided by the European Union Diplomatic Missions resident in Ghana. The Chief Observer, Nickolay Mladenov, has announced at a press conference in Accra.
The group will study and follow the different stages of the elections including campaigns, organisational processes of the elections, voting, counting and tabulation, among others.
Furthermore, the EU EOM deployed in Ghana will operate in accordance with the Declaration of Principles in October 2005 for International Election Observation and the Code of Conduct for International Elections Observation at the United Nations in New York.
The Head of the European Union Delegation to Ghana, Ambassador Filiberto Ceriani Sebregondi, said governance, rule of law and human rights issues are at the heart of the EU Missions. He added that the EU operates in a number of ways to promote and consolidate democracy and rule of law in Ghana.
He revealed that a study of the governance profile of Ghana demonstrates that political, social and economic issues conform to international conventions.
He announced that the European Union has pledged various sums of money totaling 94 million Euros to strengthen the voice of civil society and governmental organisations to support good governance.
Ambassador Sebregordi intimated that the EU EOM activities will conform to internationally accepted methodologies of elections observations and their overalls assessment will be based on international credibility and ultimately strengthening the whole electoral process.