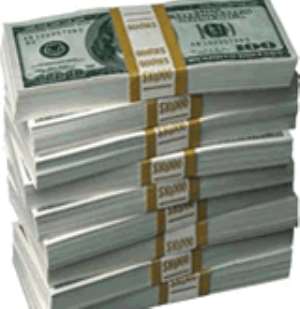 The Institute of Economic Affairs (lEA) has raised concern over the pace of increase of the level of government external debts. This concern is contained in the Institute's 74-page annual review of the economy for 2007 and outlook for 2008 and beyond which was published in August 2008 and released in October 2008.
Ghana's total external debt increased from US$2,143.79 million at the end of 2006 to US$3,590.4 million by the end of 2007, which represents an increase of 67.4 per cent in just a space of 12 months.
The stock of external debt increased further to US$3,809 million by end June this year, implying that the level of external debt almost doubled in just a space of 18 months.
The IEA cannot fathom the spate of external debt increase within the period, "considering that Ghana had received a debt cancellation of US$4,200 million by external creditors in mid-2006 out of the total US$6,347.9 million external debt incurred at the time," said the Institute's 2007 Economic Review and Outlook report.
The report indicated that the total public debt (external debt plus domestic debt) of US$7,800 million incurred as at June this year represents just below 50 percent of Gross Domestic Product (GDP) and does not pose major imminent financial threat, but the rapid rate of increase over the short period is alarming.
The review noted that government's fiscal operations were prudent in the five-year period from 2001 to 2005 when Ghana was on the Highly Indebted Poor Country (HIPC) initiative but it quickly lost track after the country reached the HIPC completion point.
For instance, overall government budget deficit improved from 2.9 per cent of GDP in 2004 to 1.7 per cent the following year (2005) but it deteriorated to 7.8 percent in 2006 and further to 8.1 percent last year.
lEA expects the government fiscal deficit to be between 7% to 9% of GDP in 2008.
The lEA report noted that government fiscal indiscipline, public debt position and inability to change the structure of the economy to reduce the risk of doing business affected Ghana's credit rating by Fitch Ratings Agency, one of the leading rating agencies in the world.
In February this year, Fitch downgraded the rating of the economy of Ghana from B+ positive to B+ stable, explaining that the fragile Ghanaian economy was exposed to the shocks of the world crude oil prices and the growth of the economy was constrained by the short supply in electricity and water, two key utilities.
A major concern raised by Fitch was the sharp increase of government budget deficit from 1.7% of GDP in 2005 to 7.8% of GDP in 2006.
Further, the much touted annual single digit inflation target had become elusive since the target was set for 2005.