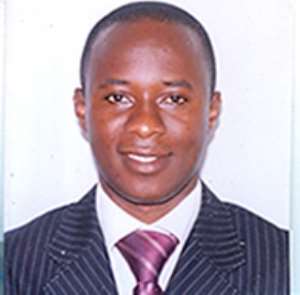 The National Union of Ghana Students (NUGS) has urged politicians to desist from mudslinging and vile propaganda during campaigns for the December elections.
That, it said was the only way to prevent violence during and after the elections.
The Union's president, Ishmael Tweneboa-Kodua said this at the launch of a peace campaign towards the December polls.
"The way and manner in which the political leadership of the country run their campaigns gives us jitters," he noted.
He said what the country needed were reconciliatory messages from political leaders to lessen the tension in the country.
Mr. Tweneboa-Kodua said "when we deliberately and unjustifiably malign people during political campaigns, we cannot ask them to put their shoulders to the wheels of national development after the elections".
The Union said it will train and deploy elections observers in particularly violence-prone areas to monitor the elections.
Story by Malik Abass Daabu
The full press statement is published below:
PRESS STATEMENT PRESENTED BY THE NUGS PRESIDENT ISHMAEL TWENEBOA-KODUA AT THE LAUNCH A PEACE CAMPAIGN TOWARDS ELECTIONS 2008, NOVEMBER 11, 2008 AT BRITISH COUNCIL HALL.
Mr. Chairman,
Colleague national officers,
Distinguished personalities,
Our friends from the media
Fellow students,
Ladies and gentlemen
The National Union of Ghana Students this morning is joining the chorus for peaceful elections 2008. A chorus because virtually everybody in our country has expressed fear of this year's elections degenerating into chaos and anarchy and their attendant repercussions on the development of the country.
Are the fears justified? In my opinion, Yes
The way and manner in which the political leadership of the country run their campaigns gives us jitters.
The willingness to do everything and anything to gain political power gives us cause to worry.
The vile propaganda and in some cases blatant untruths will not do anyone any good.
If we use propaganda and maneuvers to attain power, what is the guarantee that that power will be used to for the benefit of the masses.
We must recognise that Ghana cannot afford to disappoint herself first and foremost, and the millions of people in the international community.
The world is sharply divided into two groups on Ghana.
The first group, the larger and a cynical group believes that Ghana is no different from those African countries that have gone up in flames following elections.
For this group it is only a matter of time for Ghana to confirm her membership of these disappointing nations.
Do we want to prove them right and consign the majority of our people to a worsening situation of poverty, hunger, disease and misery? Certainly not.
There is a second, smaller but optimistic group that looks up to Ghana and believes that this great nation can pull it off once again and remain a single unit after December 7.
It is their prayer that Ghana succeeds so that at least Africa can have one successful story.
But we cannot succeed through wishful thinking. Success will come as a result of deliberate efforts by all to achieve that result.
While agreeing with the view that the acceptance of the results and the avoidance of post-election violence are dependent on whether the process is fair, we wish to state that violence will not and cannot correct the unfairness, real or perceived.
We do not know of any situation in history when violence yielded any desired results.
Such results, if any, can only satisfy the selfish, narrow, parochial interests of a select few.
If our political leaders are not selfish and have no sinister motives for seeking political power they should commit themselves to using laid down procedures to resolve any difficulties that may arise from the elections.
Moreover we expect them to exhibit the kind of unspoken magnanimity exhibited by Al Gore in the 2000 elections in the United States.
In that election, the media called the elections for Al Gore and later retracted the story and declared Bush the winner.
It is instructive to note that Bush, who led with 2,000 votes in the first count, had that number diminish to 500 following a recount. We must also note that a younger brother of George Bush, Jeb Bush was the Governor of Florida and was believed to have influenced the process in favour of his brother.
Forgive me for boring you with a rather long sagacious story. But the lesson I want us all to draw from the story is that there was palpable evidence that the process was not fair (at least as far as the Florida votes were concerned).
But significantly, Al Gore and his supporters did not burn down America as shamefully happened in Kenya.
Can one imagine what would have happened in this country if these uncertainties with the vote counting process had happened in Ghana?
It is painful to note that we probably would have had some mass graves on our hands.
But would it have been worth it. Absolutely no.
Today America has achieved once again an enviable reputation with the election of Barack Obama to the presidency.
If they had burnt down the country because of the semblance of unfairness, they would probably not have achieved the greatness that they have today.
The do-and-die mentality in our politics is distasteful, to say the least.
Let us stop looking for excuses far in advance to doubt the credibility of the elections.
Traces of unfairness are like lay lines wherever you look for them you will find them.
So let us not fig situations before they occur for if we do, we will surely see them.
Every effort must be made to address genuine concerns when they are raised by players in the elections. That is the only way we can perfect the system.
The dismissive behaviour will not help us and this is why the Union is worried at the willingness to engage in mudslinging in order to win the support of the masses.
What we need now is reconciliatory messages by political leaders to lessen the tension in the country.
That will also give meaning to monologues that the elections are not a matter of life and death.
When the Republican John McCain realised that his supporters were becoming increasingly hostile towards Barack Obama, he defended his Democratic opponent.
He magnanimously described him as "decent family man who loves his country" and that Americans had no reason to be afraid of Obama.
Unfortunately colleague students, in our country, it is pretty acceptable for politicians and their supporters to say all kinds of unpalatable things against each other without blinking an eye. It is fair for political newspapers to virtually libel others while their sponsors look on.
How can we unite our people and pursue a common agenda of unhindered development when we allow such distasteful things to go on.
One vice presidential candidate once said that he does not believe one political party has the solution to Ghana's problems.
That is true. But when we deliberately and unjustifiably malign people during political campaigns, can we ask them to put their shoulders to wheels of national development after the elections?
When we by word or deed, show signs of vindictiveness, we cannot blame our supporters when they go on rampage attacking their neighbours.
When we attack each other verbally, we cannot restrain our supporters from using daggers against each other burning others' properties.
But who profits from such acts? Certainly no one!
The time to change is now! We cannot wait. We cannot fail, for the consequences will be dire and disastrous.
On our part at the National Union of Ghana Students, we, recognizing the crucial role that the youth play in violence and other related matters, have outlined a series of activities we believe will help to squelch any potential.
We will be visiting schools to try and sensitise students to contribute their quota to successful elections 2008. During such visits we will show video excerpts of the ravages of post-elections violence in some parts of the continent.
The Union will also train election observers from its ranks and dispatch them across the country with particular emphasis on conflict prone areas.
Our presence at polling centres we expect will serve to deter any electoral fraud.
The exercise will also enable us to make an objective assessment of the process.
Mr Chairman, our friends from the media, fellow students, ladies and gentlemen, I am calling on the Ghanaian electorate to repudiate politicians whose utterances and actions create tensions in the country.
The December elections are about us and the future of our children.
We cannot allow any overly ambitious person or group persons to ruin the nation because of their personal interest.
Let me also remind my colleague students to remember that Ghana is ours and we have a responsibility to secure its future.
I want to thank you all for joining us here at the British Council today for the launch of our peace campaign. This is a moment of great trajectory of uncertainty and anxiety for Ghana.
My particular thanks go to the media for all the efforts you have made and continue to make to grow our democracy.
You have prevented incendiary, divisive comments on your networks and news pages. Thank you and more grits to your elbows.
Thank you all for coming and may we continue to unceasingly preach peace until the December 7 elections are over.
Thank you very much indeed.