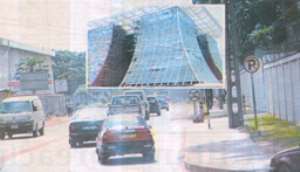 A security analyst at the Kofi Annan Peace Keeping Training Centre, Dr Kwesi Annin, has called for the immediate relocation of the French Embassy in Accra which shares a wall with the newly commissioned seat of government.
Dr Annin says the situation gives cause for worry because it could comprise national security.
The security expert who spoke to Joy News in Accra soon after the presidential palace, named Golden Jubilee House, called on government to act swiftly to forestall any unforeseen contingencies.
"I think government should be worried and certainly those who gave the initial security assessment and the approval for the building to go on should really be terribly ashamed of themselves."
"We shouldn't have an embassy sharing the same wall with a presidential mansion," he stressed.
The location of the presidential complex has long been criticized by security experts who say the citing of the edifice could not pass modern security tests.
Aside its closeness to one of Accra's busiest roads, the architectural design and development was handled by an Indian firm.
Dr Annin indicated that several warnings he had issued to government about the security threat at hand had fallen on deaf ears.
He said the French Embassy which shares a 100-metre wall with the mansion had made little effort at relocating, adding "government has not made any effort or requested them to move."
"This is a great day for us and I think some negotiation process must start for the French Embassy to be relocated," he advised.
Dr Annin however played down suggestions that the building's proximity to a major road added to the security threat.
He stated that "the open plan reflects a kind of country that is self-confident, our security agencies who are capable of protecting the President; and it also gives an aura of accessibility."
The security analyst however hinted that there would be the need to restrict traffic in front of the edifice to a single lane to forestall possible clashes into the President's convoys.
Dr Annin also debunked assertions that the handling of architecture by a foreign company held some security implications.
He said although the Indians weaved the plan, there should be no fears as "some of our own people" would soon be in charge of most of the aesthetics and other internal fittings.
Dr Annin intimated that for now, the main issue at hand is the relocation of the Embassy and other structures that could pose a threat to national security.
Story by Fiifi Koomson