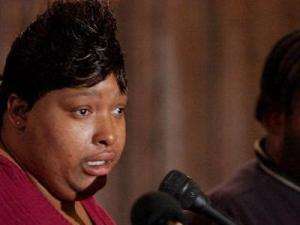 Jennifer Hudson's older sister made a plea for the return of her missing seven-year-old son.
The Chicago police have asked the FBI to help find the missing nephew of Academy Award-winning actress Hudson after her mother and brother were found shot to death a day earlier.
Julian King has been missing since Friday when Hudson's mother, Darnell Donerson, 57, and brother Jason Hudson, 29, were found dead in Donerson's south side Chicago home.
Chicago police spokesman Daniel O'Brien said the FBI had been asked to help in the search in case the boy had been taken across state lines, in violation of federal kidnap laws.
Mr O'Brien declined to confirm various media reports that police had taken William Balfour into custody as a suspect in the double homicide investigation.
Balfour, 27, had a relationship with Hudson's sister Julia but is not the father of the missing boy.
Balfour's mother said earlier her son and Julia were estranged and that he had nothing to do with the murders.
The Illinois Department of Corrections website lists Balfour as having been convicted of attempted murder, car theft and vehicular hijacking. He was released from prison in 2006.
Mr O'Brien said more than one person had been questioned but that no one had been charged with a crime. He did not release any names.
On Friday, police spokeswoman Monique Bond said of the murders: "It appears to be domestic related."
Hudson shot to fame in 2005 as a contestant on US TV hit show American Idol. She has also starred in the film version of the stage musical Dreamgirls for which she won an Oscar for best supporting actress.
Hudson has since appeared in the movie version of Sex and the City and is currently in The Secret Life of Bees.