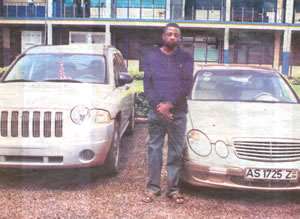 A 26-year-old man who police said has been snatching cars at gun point in Kumasi and other parts of the country, has been arrested.
Nana Kwabena Takyi, arrested on Wednesday, was said to have stolen 16 cars and in most of the cases, killed the victims.
He is said to have been in the car hijacking business for the past three years.
The Ashanti Regional Police Commander, Kwaku Ayensu Opare-Addo, who briefed reporters on Thursday, said that nine of the cars had been retrieved including a E-c1ass Mercedes Benz whose, colour the robber had changed from black to light, brown, a Jeep, Rover and KIA Pride taxi cabs.
Takyi, according to Mr Opare-Addo, had his own painters who re-painted the stolen cars before offering them for sale. He kept the cars in the bush at Bohyen a Kumasi suburb, where he lived.
He said preliminary investigations had established that the number plate of the Mercedes Benz, AS 1725 Z, belonged to a Police Inspector at Sogakope, while those of the KIA taxis, were for motor-bikes.
Further investigations, he said, were being conducted into the, number plates issue while police continued to search for the suspect's accomplices.